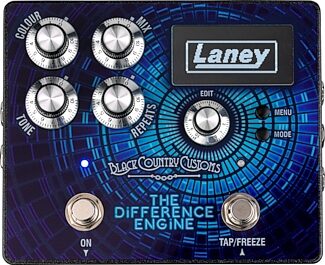 Three eras of iconic delay in one pedal! The Laney Black Country Customs Difference Engine delay features tweakable analog, digital, and dynamic delay types.
$479.99
---
No Credit Check

No Credit Check
Overall User Ratings
(based on 1 ratings)
Submitted February 13, 2023 by a customer from gmail.com
"Amazing sounding delay, but has some serious flaws.&quot
Verified Customer
zZounds has verified that this reviewer made a purchase from us.
Take note of the date of this review. Hopefully Laney figures a few things out and updates the firmware. So The redeeming factor of this pedal is the sound quality. This is an amazing sounding delay. On paper it doesn't seem like much but you can create some very nice tones ranging from ambient washy effects, dual delays that bounce around similar to Andy Timmons Halo, to great tape and analog sounds. The user interface has nested menus that are fairly easy to navigate and the onboard controls make for quick on the fly adjustments. The MIDI implementation is very detailed with a few major caveats that I'll get to in a minute. The form factor is decent considering the power, and the power draw is very minimal for a box like this. The build quality seems quite sturdy and I don't feel like it needs to be babied and should survive the everyday challenges of life on a pedalboard. Now to the downsides. Like I said the MIDI is very detailed but they left one the single most important MIDI functions. THERE IS NO EXTERNAL MIDI CLOCK SYNC OR MIDI TAP TEMPO!! When I was reading the manual I thought this must have been a mistake so I emailed Laney and they confirmed this. It's on the roadmap for future firmware but still. Major design fail IMHO. MIDI Tempo on a MIDI enabled device is crucial. There also is not an option for an external Tap Tempo switch. Normally not a deal breaker but doing tap tempo on a non soft switch (clicky switch) is irritating and requires more effort than it should. Another miss. Last is the performance modes. To utilize the footswitches you have to be in either Preset or live mode. In preset mode you cannot turn the effect on or off, and in live mode you can't change preset. You have to go back and forth between the two modes by hitting both footswitches. This is a ridiculous amount of tap dancing to go up a preset then disengage the box. I really don't understand what they were thinking on that one unless they were expecting folks to just use MIDI. These are some big misses in my book, especially for a delay that costs more than the mac daddy of them all, the Timeline. I'm still on the fence about returning this. I'm not sure if the amazing tones outweigh the hassle of what it's currently missing. Plus Laney is relatively new to the pedal game and they could walk away after a year and never fix anything. Ugh such promise met with disappointment.....
3 of 3 people (100%) people found this review helpful. Did you?
Thanks for your opinion!