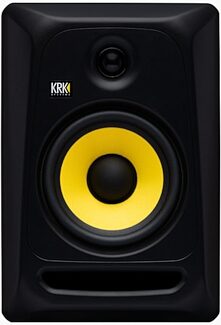 Mix with a flat frequency response or engage the KRK Bass Boost for extra low-end -- Classic 7 studio monitors provide both accuracy and full-bass immersion.
Overall User Ratings
(based on 1 ratings)
Submitted October 15, 2021 by Joey Chaparro in Sun City, AZ
"Best Monitors Ever!&quot
Verified Customer
zZounds has verified that this reviewer made a purchase from us.
Absolutely love these monitors. Ive been a KRK customer for a decade. Back in 2011 I bought my first pair of monitors, the KRK Rokit 8 G2's and I still have them and they still work PERFECTLY. Several months ago I purchased the KRK 12s subwoofer and was blown away by that product too. Im saying all that to say that I really enjoy KRK products because of their proven reliability and quality. Which is why when I noticed that KRK came out with these new monitors I knew I wanted them. Ive been wanting to downsize my set up anyway, the 8's are quite large. Not only are they big and heavy, they're also too powerful. Too much wattage pointed right at my face so I decided to retire them to my living room as home theater speakers and get these Classic 7's for my studio and I LOVE them! Just the right amount of power and the right size. I also love the new look, which is very similar to the Rokit Gen 2 and 3, which I think is a great looking design. After these babies up I could tell they were much clearer and crisper sounding than my old Rokit 8's. Love the high and low frequency controls on the back, super useful. One thing to note: KRK decided to put a new feature on these Classic series monitors, they will turn off after 30 minutes of no activity or low activity. If you're listening or mixing at a low volume for 30 minutes they will still turn off. Theres a very simple solution to this: turn down the volume on the back of the monitors like A LOT so that you can have the master volume on your interface turned up a little high. As long the master volume on the interface is at least at -50db (according to KRK) the monitors will never turn off by themselves. Me personally, I have the volume knobs on the back of my monitors set only a couple clicks just above completely off so that I can have the master volume on my interface at -45db and it be very quiet, ensuring that even at super low listening levels the monitors won't power off. The monitors react to the signal they're getting from the interface so setting the volume control on the monitors themselves has no affect. So to sum it all up. I love these monitors, I love KRK, and I love zZounds. I make ALL of my moderate to big purchases here because of the awesome financing options. One weird thing I want to point out but isn't a big deal is that both of the monitors came on different days, which was a little disappointing because I had one monitor set up in my studio and I had to wait till the next day to get the 2nd one. Thought my pair of KRK's would have arrived at the same time. Again not a huge deal, just a little odd.
Musical Background:
Sound/ Studio Enthusiast For 10 Years
Musical Style:
Black Metal
1 of 1 people (100%) people found this review helpful. Did you?
Thanks for your opinion!