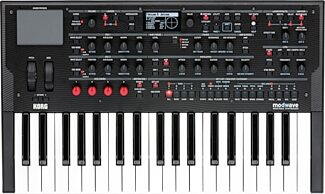 With extremely deep FM synthesis capabilities married to rich, musical Korg analog filters, the Modwave is your key to creating exciting, intricate sounds.
Overall User Ratings
(based on 1 ratings)
Submitted February 2, 2022 by Maria L in Pocono Mountains, PA
"Korg produces another Winner&quot
Verified Customer
zZounds has verified that this reviewer made a purchase from us.
This is fun set of keys. There are about a zillion ways to modulate waveforms and patches. The presets alone are a fun night's jam session. Beyond that it is a really deep synth that you will not master overnight, but it can grow with you. It certainly represents good value for money and professional quality sound for a moderate cash (or payments,lol) outlay.All that said, although the Mod Wave uses analog filters, this synth does not have analog warmth. Although Korg compares it to their old (1980s) DW synths, they really did have the Mod Wave beat on warmth and punchyness. The Mod Wave, however, is far more sonically versatile, flexible, and interesting. It sounds very digital to me, but in a good way, like an Access Virus. Well, not as sonically rich as a Virus, but in that tradition. The MW sounds impressive, and like (a) Virus has a distinctive tone, but for a lot less cash. With an arp, sequencer, multiple filter types, and dedicated modulation knobs, plus a built-in Kaoss pad this could be a very expressive instrument. Onboard effects help to thicken the signal and add depth to the patches. I have to say that the MW's powerful synthesis engine (based upon wavetables) and modulation capabilities are somewhat underserved by the 37 note key bed. This expressive synth really begs for 61 keys, and perhaps if it becomes available as a desk top version might be preferable.I'm usually not one to create a patch from scratch, (prefer to work mangling presets) but I pretty easily and quickly made a decent supersaw style lead patch. Again, the programming options are many, but unfortunately the work flow is a bit awkward at times. Despite a plethora of knobs you will be doing some minor menu diving. I can't help but feel like the MW could have used a Master Alpha Dial or something similar. But then again, I haven't looked at the manual, and have found my way around the Mod Wave pretty easily.Nevertheless, it is a great sounding synth. Keep in mind that this is not a synth you want for your Church services, classic trax, etc. The MW produces a sound that is far more compatible with just about any electronic music, hip-hop, trance, techno, ebm, futurepop, and perhaps some alternative rock. With the complex layered, modulated sounds the Mod Wave churns out, it will be a welcome addition to any electronic musician's arsenal. Despite its formidable engine, modulation capabilities and on-board effects, this instrument shows it's weakness (cost-cutting) is in the overall build quality. The chassis is cheap plastic and the Mod Wave is not a very robust feeling instrument. While Korg compares the MW to the old DW family, those older keys were real tanks. (My 1980s bandmate gigged with his DW6000 for years and it barely even got scratched). If you plan on gigging with the Mod Wave, a hard case would be absolutely necessary. It's better off residing in the studio. All in all, this is a great synth that you will find easy to play immediately, but leave you plenty of mysteries to solve in the future. Korg is really on a roll these days, and the Mod Wave is another really successful synthesizer.
Musical Background:
Synths since 1983, electric guitar, rudimental drumming,etc
Musical Style:
Futurepop, EBM, Synthpop, Alternative, Goth, Doom and Gloom.
4 of 4 people (100%) people found this review helpful. Did you?
Thanks for your opinion!