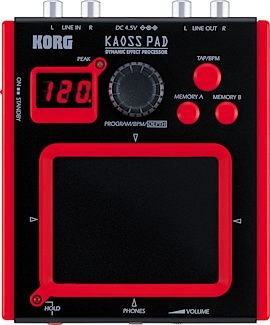 Run a stereo line-level source into this compact Kaoss touchpad, and tweak your sound with 100 different effects -- great for DJs or electronica live sets.
Overall User Ratings
(based on 20 ratings)
Submitted June 7, 2010 by a customer from yahoo.com
"Warp Your Music Up&quot
This review has been selected by our experts as particularly helpful.
I'm pretty satisfied with this unit overall. If it were lost or if it broke I'd replace it for sure, but I'd probably buy it used or refurbished because I don't have as much money at my disposal as I used to. If someone stole it, I'd be the one going to jail. That's all I'll say about that. If I had the money I'd purchase either a Kaossilator or KP3, but for right now I'm thoroughly content with what this thing offers.
Sound
The sound of this product is entirely dependent on its user. It's an effects unit, so you have to plug an external audio source into it. It can't make sounds of its own (with the exception of a handful of "drone" like oscillators towards the end of the effects bank) so you need something else coming through it to use it properly. The sound quality is okay, it could honestly be better. I've noticed that while using it live (this could be a problem with individual PA's), certain effects are not as loud as others, there are sharp spikes in certain frequency bands that are hard to avoid. I normally use flanger, phaser, and different delays to enunciate what I play on keyboards, and I've found that sometimes the audio output will clip even if the peak light to the upper right of the LCD screen is green and not red. Otherwise, I can't gripe too much about this product. It's incredibly small and battery powered and is a wonderful addition to my sound. I play a variety of music, from Industrial to EBM to Drum 'n' Bass to Symphonic Black Metal, and the MiniKP fits right in to whatever I want to pull off, whether its a super deep flange (program #36) that sounds like time is slowing down for psytrance, a grain shifter (program #72) for glitching out drum beats and samples for industrial, or a phaser delay (program #43) that adds an eerie ambience to choirs, strings, and pads I play in my metal band. I've also use the miniKP in tandem with a Boss SE-50 I purchased from a fellow industrial musician, as well as various tube amplifiers (an old IVP Intersound tube preamp and an Artcessories Tube Mic Preamp) to warm the digital sound up a bit. If they could make an analog version of this I would be in heaven. This little pad plays well with others, you just have to place it in the correct position of the effects chain.
Features
When I purchased mine, I only got the unit itself, I have yet to purchase the power adapter for it because I use rechargeable batteries. However, the unit did come packaged with 4 AA's so you can use it literally within minutes of taking it out of the box. The most useful feature is the fact that the effects are bundled together into groups that are related to each other. For example, the first ten or twenty programs are different types of filter effects, ranging from low pass to high pass and everything in between. There's only one true distortion/ fuzz program in the entire bank of 100 effects, so if you're looking for overdrive find another effects unit, distortion pedals are a dime a dozen. If you feel creative look up some schematics online and go to Radioshack and pick up a soldering iron and some resistors, capacitors, and transistors, you can feasibly build a distortion pedal for about the same price as a generic stompbox anywhere else. There's also two or three variations of the sample rate/ resolution altering effect known as bitcrusher (or decimator), which is a really gritty, dirty digital effect that's useful for adding some grunge to just about anything. There's also sections dedicated to filters modulated with LFO's, to create a sort of "auto-wah" cyclic effect. After those comes the flanger and phaser variations, then auto panning, then slicers, then a myriad of delay settings, and some reverb. Another useful feature is the tap tempo. Personally I rarely use tap tempo because I mostly dabble in electronic music, but I can identify its necessity in other genres (especially those with live drummers). The tap tempo button is the largest red button in the top right corner, press it twice and the tempo automatically conforms to the duration of the two beats in which you pressed it. If you only press it once, the BPM setting pops up on the LCD screen and allows you to use the dial to manually toggle the tempo. After 90 BPM, it beings to decrease in increments of 0.1 rather than 1.0 (allowing for weird settings such as 88.8 or 76.5, etc.). This allows for long, huge sweeps with some of my favorite effects, and with a bit of simple math, you can get 16/1 quantization for higher BPM beats and synth lines, something I could never pull off with my MicroKorg back in the day. What's also useful is the memory A and B buttons below the tempo button. These allow you to assign two of your favorite effects programs so you can call them up immediately upon turning the unit on, or during live use. This saves you in the fact that it's such a pain to dial through a bank of effects and trying to remember the number of the program you like the best, especially in a live setting. One of my favorite and quite possibly one of the most useful features of this unit is the effects hold button on the bottom left corner. There's a red LED down there to denote whether the effect is on hold or not. This allows you to keep an effect on without having to obligate yourself to keeping a finger on the pad at all times, so you can free your hands up in case you need both of them while performing. Also, if you want to change the X-Y coordinates of the effect while its on hold, it saves this automatically and keeps the program's parameters at the values they were at when your finger leaves the pad. The less useful features are at the end of the program bank, the last 25 programs take a bit of practice to use correctly. These programs ranging from sample loopers to drone oscillators. The looper settings take a little splice or section of whatever you're playing through the miniKP and start repeating it over and over again. Depending on where you place your finger on the pad, the duration of the sample and how often its repeated is effected. While this sounds awesome when pulled off correctly, I have yet to acquire a knack or feel for initiating this correctly with some of the looper settings, most often than not I don't catch the sample I'm seeking and have to constantly try over and over, so I rarely use the looper in a live setting and prefer to use it when recording so that I can cut out any failed attempts and single out the correct application. As for the oscillators, those are good for genres of music in which you need drone type synth sounds or weird pitch/ filter sweeps. Going left to right (X axis) alters the pitch, and going up and down (Y axis) alters the filter setting. While these settings do have their uses, I don't use them very often because I have a ton of synthesizers at my disposal already. But for a little live improv with an X-Y pad, these settings can't hurt.
Ease of Use
If you can't figure this thing out within the first half hour of getting it out of the box, you need some serious help in the form of Wikipedia and electronic music forums to gain a better understanding of audio effects. All you need is cables with an RCA connection (quarter inch phono plugs, NOT quarter inch guitar plugs). I bought two generic stereo RCA-1/4" (grey and orange to denote left and right channels) cables for use with this unit because my studio's standard is regular guitar cables. Everything I own is relatively easy to use with this unit, I just swap out the regular cables I use to hook my equipment up to my mixer and I'm ready to roll.
Quality
The reason this unit is so inexpensive is because it is made out of plastic (the red part), the only metal as far as I can tell is the black frame screwed on top. If I had the money I'd probably buy another one of these to use as backup (or to use two in conjunction with each other, that would be sick). But so far I've taken it on the road and to the practice space and it has yet to fail me.
Value
I purchased this unit because it was cheaper than the other Kaoss Pad models out there while still providing the basic functionality I was aiming for. It was a good deal and a good value, and I'm glad Korg released a trimmed down, scaled version of their line of Kaoss Pads that tend to be a bit too much money in my honest opinion.
Manufacturer Support
I have yet to deal with Korg directly or indirectly, none of my Korg gear has died yet and their products dominate my studio. I cannot rate support because of this.
The Wow Factor
The only thing that would make this little wonder any "sexier" would be if it had the same LED "trail" effect the KP3 has on its X-Y pad. The red plastic also looks pretty awesome under blacklight (a lot of industrial clubs I play at have UV light that gives it a neon pink hue). The fact that something so small packs such a live punch is the biggest attraction to this unit.
Musical Background:
Active Musician
Musical Style:
Industrial, Psytrance, Electronica, Drum 'n' Bass, Black Metal
34 of 36 people (94%) people found this review helpful. Did you?
Thanks for your opinion!
---
Submitted April 28, 2008 by a customer from comcast.net
"Korg Kaoss pad&quot
Couldnt be better
Sound
This product is amazing, in combonation with the Korg Kaossilator, you really cant get any better in music entertainment right at your fingertips
Ease of Use
incredibly easy to use, right off the bat, i was able to use it with absolutley no instructions
Quality
well put together, sturdy product
Value
deffinetly worth the cost
Manufacturer Support
Korg is a great music company
The Wow Factor
On the techno geeky side
Musical Background:
Active Musician, Sax + Clarinet
31 of 43 people (72%) people found this review helpful. Did you?
Thanks for your opinion!