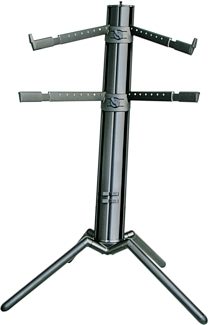 Simplify and solidify your two-keyboard setup. The K&M Spider Pro stand has a comfortable 15-degree-angled top tier, and spider legs to fit over your pedals.
Overall User Ratings
(based on 3 ratings)
Submitted August 5, 2010 by a customer from pollekes.com
"A stable, well built, adjustable, sturdy and good looking column stand.&quot
Verified Customer
zZounds has verified that this reviewer made a purchase from us.
This review has been selected by our experts as particularly helpful.
Very sexy looking stand. Sleek. Works as advertised. Great build quality. Stable. Adjustable. Two tiers.
Features
This is a very stable stand. I'm tall (6'5") and this two-tier keyboard stand is infinitable adjustable, and can go from sit-down low to high-heel high. I have a heavy playing hand, and even glissandos on a heavy triton in the top tear will not topple this stand. It doesn't get more wobbly as you raise your keyboards the way an x-brace stand would. The column of the stand has two cable clips for cable management, which works well, though it would have been nice to have additional clips higher up. Having said that however, the current arrangement works pretty well. The top of the column has an adapter for laptop or mike boom. Haven't used that yet but could come in handy. The top tier is angled which works great for reading displays on workstations (however a non-angled tier can be purchased separately if you prefer that). Each of the arms can slide out to accommodate both narrow and deep keyboards without compromising stability. The four legs fold smoothly and quickly, but make sure that you fully expand them when setting up the stand or else they may fold back (not an issue when loaded).
Ease of Use
When folding up, the two sets of arms slide up and lock into the top of the column or the tier above it. Fasten the knobs and it's securely in place. Twist the legs and you're done. Extremely easy to use.
Quality
Very well built, clearly a lot of attention has been given to the design of this stand. Joints and moving parts are all metal. I would be surprised if this wears out soon. Beautiful aluminium finish,
Value
It's not inexpensive (I paid $250) but you do pay for quality. I don't regret spending the money (especially since my keyboards are worth almost 10 times the price of the stand, and you don't want to use something flimsy). I considered an Apex stand but shied away from it after hearing numerous complaints about quality control in the newer stands. Very few reviews yet of this stand, but all were favorable, so i took the leap. Good choice.
Manufacturer Support
Haven't had to deal with it.
The Wow Factor
Very sexy looking stand. Sleek, column look. Cable management. Silver or black to complement your look. Plenty of room to put your cheesy equipment and band stickers on.
Musical Background:
Active Musician
20 of 21 people (95%) people found this review helpful. Did you?
Thanks for your opinion!
---
Submitted January 13, 2011
"Good but not perfect.&quot
Features
Ability to attach additional arms etc. make this a very versatile stand.
Ease of Use
Heavier than expected. Must reset levels when folding arms for transport. Plenty of pedal/foot space underneath. Heavy keyboards do bounce when playing aggressively - otherwise fairly stable. Needs an absolutely level surface for stability. I've decided that I'll keep this product for home use rather than gigging as I'm not sure it will suit every venue.
Quality
Well constructed, good design. Ordered laptop attachment from Germany - came with incorrect length of bolt.
Value
Not a bad price for the design and construction.
Manufacturer Support
Have emailed the company but so far have had no response.
The Wow Factor
Very sleek - looks pro.
Musical Background:
Active Musician
10 of 11 people (91%) people found this review helpful. Did you?
Thanks for your opinion!