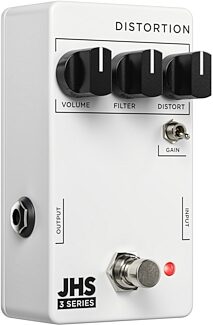 Want a versatile distortion that won't break the bank? The JHS 3 Series distortion pedal is designed to offer touch dynamics and a wide range of tones.
Overall User Ratings
(based on 1 ratings)
Submitted November 11, 2021 by Andrew Stendahl in Lubbock, TX
"JHS 3 Series Distortion&quot
Verified Customer
zZounds has verified that this reviewer made a purchase from us.
This pedal sounds like the Rat distortion pedal but not as loose, a little bit brighter, in comparison to the plexi distortion pedals its a little brighter on the treble side. This has a hint of whispering raspy fuzztones. I have it next to the I Was A Wolf In the Forest Distortion by Animals Pedals, I like the way this 3 series Distortion pedals full.strum feels. Its focused, it ranges from a light overdrive to a higher gain almost a thrash metal tone. Plenty of grit. If I had only one distortion pedal, Id be happy with it
Sound
Quality of construction is excellent. I like the way the red light is recessed into this pedal, tje bulb isnt too bright and it doesnt light up near the three dials. Makes the settings easier to read than on some other pedals I have. I think JHS designed the center of this pedal for us to find a custom sticker of our choice, Alf on a skateboard comes to mind. Has to be within a three by three inch diameter. Something to think about
Features
Component wise, volume and gain are pretty relatable, the center dial says 'Filter. I understand this is a nod to the Pro Co Rat. Bass/treble is what this setting is referring to for that particular dials setting..according to the instruction sheet that came with it
Ease of Use
A gain toggle switch adds a noticable bass and gritty darkness, if you were to switch this toggle while playing, just know the volume will drop. Its best to stick with one toggle mode and use a different pedal to switch to a different distortion, then again- you really wouldnt need to. Youd most likely switch from clean channel or a lighter overdrive. It really works just fine the way it was designed
Quality
Construction is excellent, JHS stuff is made of metal and pretty well balanced, unlike some of the bulbous shapes and acrylic cases tc electronic pedals uses, tc has recently come out with some pretty good budget pedals. Tubescreamer clones and some effects that amps dont always come with built into them, but should
Value
The 3 series is an excellent value, I might want to investigate their fuzz pedal next to add some rolling thunder to lighter overdrive pedals like the Wampler Belle and Way Huge Conspiracy Theory. The Fishing is Fun As Fuzz pedal by Animals Pedal is cool but it has proven to be so powerful that it can only be used as a standalone. Id like to get a fuzz pedal that offers subtle nuances to use as a stackable feature, the innovators at JHS seem to understand me. By watching their product demos on The JHS Show on youtube, they have earned my trust. You see I recently bought this blue colored bluesbreaker clone pedal called a Blooze Maker Pedal made by Chicago Stompworks- with or without a noise gate pedal the Blooze Maker Pedal broadcasted radio stations through my Vox Ac10, Deluxe Reverb and Princeton Reverb amps. I messaged the bulider/owner about the issue and he didnt accept returns and told me to try a battery instead of our beloved modern signal chains. Im pretty sure his positive comments were all bogus. JHS on the other hand has years of sheilding and internal pedal grounding trial and error experience, they seriously know build guitar pedals before debuting them to the public
Manufacturer Support
I would like to 'deal with this company As in jam with them but as a conservative well mannered guest playing light riffs and being genuinely happy to be on their show and see their environment from the assembly process of their pedals to plugging into them just the way I do at home
The Wow Factor
I sincerely feel the JHS 3 Series is the highest quality value on the market right now if you are lacking in standard electric guitar effects. I have been playing bass and guitar through clean channel tube amps since 1993. This was the year I began regularly watching the JHS Show on youtube which influenced me to look into gain. With an overdrive, fuzz or distortion tone we can add warmth and character to an otherwise flat signal. I now blanket my guitar notes in unique waves of cascading static, surprisingly a newfound taste in their savory gain pedals has made playing my guitars sound and feel more palatable through my amp speakers. There are so many overdrives you can play through such as transparant pedals, tubescreamer pedals, klon circuit pedals, English plexi tone distortions and American Rat style distortion sounds. All are unique to one another and worth diversifying your music with. Something youll always have on hand to grow with, lasting forever. You know youll play the electric guitar until you die, get some good pedals
2 of 2 people (100%) people found this review helpful. Did you?
Thanks for your opinion!