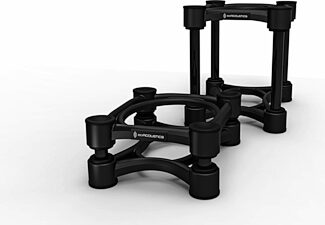 Give your mixes every advantage they can get. With the ISO-200 monitor stands, your monitors are isolated from your desk for clearer, more accurate sound.
Overall User Ratings
(based on 2 ratings)
Submitted August 19, 2020 by Teri L W in Clinton, TN
"Pricey But Effective and Attractive&quot
Verified Customer
zZounds has verified that this reviewer made a purchase from us.
This review has been selected by our experts as particularly helpful.
To purchase these you have to REALLY want very good isolation AND an attractive professional look for your monitors. Much research and many reviews later I pulled the trigger on the medium ISO-155 set for my Tannoy Reveal 502s and the large ISO-200 set for my Behringer Truth 1031As. They are VERY pricey to only be made of plastic, metal tubed arms, and rubber. That said, they are well constructed, extremely effective, well thought out in design and quite professionally attractive on the console. There are only two heights you can adjust these two, and the package comes with both sets of arms for either choice. It's nice to be able to adjust for the "sweet spot". The insert plugs are very nice for being able to angle your monitors in several different configurations of tilting. As far as effective, I cannot imagine any other platform isolation stands outperforming these. The comparison of sitting on a desk and mounted on these stands isn't just, "Well that certainly sounds better." They are like a night and day difference. It really did produce the "Wow" factor. After comparing the sound I had with the sound I now have, the price didn't "ouch" quite so badly....but it's still a price "ouch". If you manually use a back and forth movement in any direction with your hand you can actually feel the give and take suspension. Not too much....just enough. It really is as if they are floating rather than sitting. And of course the bottom line is......they make your monitors sound incredible. Get the room acoustics right and you are good to go forever. I did mention they are very pricey for what they are and what they are made of didn't I? If you want perfect, attractive isolation for your monitors REALLY BAD......then these are a good investment.
Quality
Very good quality materials. These should last forever.
Value
Worth it if you want sound perfection and good looks really, really, really a LOT! They are very, very pricey.
Manufacturer Support
Haven't had to deal with the company. Can't see why they wouldn't be helpful and supportive and I haven't read anything bad about any customer service with them.
The Wow Factor
Sure does put a professional attractive look on the console.
Musical Background:
Professional Full Time Gigging Musician
Musical Style:
Acoustic Fingerstyle, Cover Artist, and now Amateur Recording Musician
1 of 1 people (100%) people found this review helpful. Did you?
Thanks for your opinion!
---
Submitted December 5, 2021 by jared n in EUGENE, OR
"My KRK's never sounded so good!&quot
Verified Customer
zZounds has verified that this reviewer made a purchase from us.
Hi if you're on the fence about whether or not to purchase these jump off that fence and buy them!My speakers have never sounded so nice. These are nice and sturdy and I love how you can tilt them down. A must-have!
Did you find this review helpful?
Thanks for your opinion!