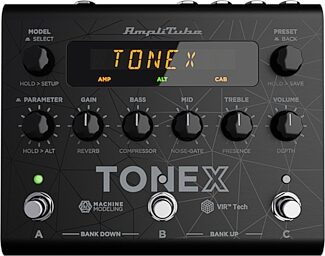 Expand your tonal horizons with IK Multimedia's TONEX pedal! Choose from a library of amp and effects sounds, or use the included software to model your own.
$399.99
---
No Credit Check

No Credit Check
Overall User Ratings
(based on 3 ratings)
Submitted June 14, 2023 by a customer from gmail.com
"An amazing product with a few drawbacks&quot
Verified Customer
zZounds has verified that this reviewer made a purchase from us.
This pedal has kind of taken over the guitar world by storm and honestly the hype is justified. It sounds REALLY good but there are a few drawbacks that make using it a somewhat frustrating experience and like any modeler or new piece of kit there are some learning curves you need to be aware of before buying. Firstly if you are buying this to capture amps you are kind of not getting the full package unless you already have a reamp solution, you'll need an interface and reamp box to accomplish that though it can be done with those items and the included software.I was somehow under the impression that the pedal alone with its ins and outs could get that job done, no Biggy as I don't have many amps but a friend does. The amp does not have any onboard effects so it will not replace a helix or another multi FX and can actually benefit from being paired with a similar unit. It has built in overdrives on some patches, pre and post Compression, built in noise gates, reverb, and built in EQ. This covers a lot of ground truthfully but time based effects aren't to be found. Think of this pedal as the core of your sound and add your favorite pedals after or slap on a plug-in of your choosing. The editing software and Tonex plugin are really confusing to use. It repeatedly tells me my Tonex has an error connecting and then it just connects? The software is split into three functions none of which are clearly explained. Player - connect to via Interface mode on the pedal or another audio interface to browse and tweak tones/presets Modeler- use interface and reamp box sold separately to capture existing pedals/amps (no time based effect capture allowed, also doesn't really capture fuzz well.)Librarian - update and re-arrange the amp models on the pedal itself. Add new ones, swap orders/banks etc. Upon initial load I thought that my pedal would just seamlessly connect to the player portion and allow me to tweak amp parameters with the knobs of the pedal. It does not. The only way to use this section is to switch the pedal to interface mode by tapping the model knob, going to global settings>operation>interface mode and once enabled selecting usb out>Dual from here your signal is split between the pedal's patch to tone on input 1 and a dry signal on 2.From there you want to set your input to 2 on the audio driver settings. NOW You can browse presets to your hearts content and save them to your folder. Once you tweak to your liking you go to the librarian tab and drag/drop to the preset slot of your choosing. I didn't find any FAQ that covered this on the manufacturers site and only a few YouTube videos that showcased this. The bulk of it was figuring it out on my own and struggling a bit. I don't think alot of users will have the patience to do the same and may get frustrated. In regards to actual amp tweaking and downloading tone sets I again ran into issues, it would say tone net was not connected despite being signed in via my browser. I had to completely reset my account and sign back into both the ik account, tone net and the license manager. Finally tone sets themself are kind of finnicky, user tones vary alot as expected. I got the best results by swapping Cab models and adding my own IR's to the amp models I downloaded. That made all difference and gave me some tones I am really really happy with. All in all I love this unit and the sounds I am getting. Just expect to have to put in some time to learn and if you want to make your own captures make sure to get either the capture version or a different reamp solution. I'll be picking up a walrus audio reamp box in the future to capture some amps/pedals. I also plan on getting an HX stomp or the Helix Native plug-in to handle all the delays and other effects I'd like to use with it.
Sound
Phenomenal tone and variety of patches can be achieved via this pedal and the editor. I've set up some lovely 5150 patches, VH4, ENGL Fireball, and A Framus Cobra that I really really like along with a 57 bass man clean that has me playing in styles I normally wouldn't. I've lost myself in playing again and I think that's a testament to how good the amps sound when dialed in correctly.
Features
The knobs and editing on the pedal makes a lot of sense though requires a little muscle memory at first. The controls are simple on the face of the pedal and mirror what you'd find on most amps. I really appreciate how the pedal itself can be used to keep you out of Menus and focused on playing. The software is difficult to use and doesn't function as you'd expect. I thought there'd be more of a direct sync between the pedal and software and was disappointed that it doesn't really function this way. Adding impulse responses to the library also didn't allow for multiple for some reason. I had to manually click through folders one by one instead of dragging and dropping a folders
Ease of Use
Once you learn how to edit on the pedal and how the software works there's alot of great tones to be had. I didn't really mess with too much of the presets as I am a high gain guy and wanted a good 5150 patch to be my home bank. Bank 1 had an 800 I was less than thrilled with but if you spend time dialing in it the can and EQ you can get a wide variety of amazing sounds.
Quality
Seems sturdy and made of mostly medal. The sides glow which is a nice touch and the screen is somewhat easy to read. I would have preferred a better display for a little extra but it's serviceable.
Value
Absolutely worth the price. The standalone ToneX Max software is 299.99 which is included. Obvi they did this to encourage the pedal and I'm really happy with the sounds it provides. I think this will be a really great solution for a lot of players that have been chasing a specific amp sound but are put off by the price and downsides of having a high wattage tube amp (volume, weight, maintenance).
Manufacturer Support
I have not had to reach out to IK directly but I've noticed their FAQ and support page has no mention of the ToneX whatsoever. The manual covers a lot but didn't showcase the software well in my opinion. I feel as a whole they could spend more time investing in building out a better UI for the ToneX software and code it to automatically switch modes or guide people through their first time using the program a little better.
The Wow Factor
It's a sub $500 pedal that provides you with inspiring and realistic amp sounds. This is something that's been out of reach in the industry without paying 1k for a stripped down version of a 2-3k unit that the pros use.
15 of 15 people (100%) people found this review helpful. Did you?
Thanks for your opinion!
---
Submitted July 27, 2023 by don s in weed, NM
"tonex pedal would be a bargain a 2x the price&quot
Verified Customer
zZounds has verified that this reviewer made a purchase from us.
50+ year player. owned it all several times. got rid of my dual rectifier and 65 deluxe reverb when the kemper came out. love the kemper tones and feel but wished for a smaller, simpler profile player because i had no need to create profiles. kemper never made a profile player but IK did :)the tonex pedal is what kemper should have built.as a kemper owner from the very beginning i can tell you that the tones and feel are just as good as the kemper. several of the "captures" on the pedal are perfect "10"'s. in minutes i had a recto that felt and sounded exactly like my kemper version. i added a delay between the tonex and my headrush frfr to kick on during leads. in a few more minutes i had a killer fender deluxe reverb dialed in clean and crunch. the onboard fx on the tonex are just fine. my kemper goes for sale on reverb tomorrow. all i need now is my delay pedal, the tonex and the headrush and i can gig anywhere with zero back pain and have perfect tones and feel. the manual is just ok. the tonex software is so un- intuitive as to be laughable. if tim pierce hadn't put up his super video showing how to use the software i would never have figured it out and i've been making pc based music since the 90's. it's that bad....
Musical Background:
50+ year gigging
Musical Style:
rock-hard rock-metal
2 of 2 people (100%) people found this review helpful. Did you?
Thanks for your opinion!
---
Submitted August 30, 2023 by a customer from gmail.com
"Really quite unbelievable&quot
Verified Customer
zZounds has verified that this reviewer made a purchase from us.
Over the past few years I've collected a few great amps. However, I'm not able to use them live because we play a silent stage. For the past couple of years I've been using the Boss GT1000 with excellent results. The only thing is I really want to have my real amp tones so when IK came out with Tonex Pedal, I jumped on it. (Note, I wasn't aware that I needed a reamp box bit Tonex is so good I'm buying one).Using the included amp and cab models, I found that they are ultra-realistic. Not just in tone but also in feel, response and compression. I've been mostly on the Dr.Z Maz 18 model but have gone through a ton more. It's as if you're playing through a real amp. Understand, I wouldn't have bought this because the GT1000 is fantastic. But like I said, I want to model my own amps. You can hit the front end of this box with an analog drive and it just eats it up. Exact response to drives with zero digital issues. Blown away by this technology and looking forward to using it live this weekend.
Did you find this review helpful?
Thanks for your opinion!