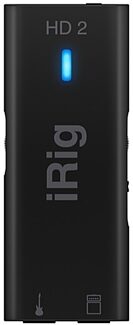 Record guitar through the AmpliTube app on your smartphone! A 1/4" output lets you send your processed signal to an amp, use your phone as a tuner, and more.
Overall User Ratings
(based on 2 ratings)
Submitted August 28, 2017 by Alex M in East Tawas, MI
"Love it&quot
Verified Customer
zZounds has verified that this reviewer made a purchase from us.
I got this so when i travel i dont have to lug around my amp and pedal boards. This thing is so awesome. I have no issues using it, sounds great with no interference. It is made out of plastic so not sure how durable it will be but i put it back in its box when im done playing. Amplitube is a nice app but it kinda pisses me off they nickle and dime you on the app when the pc version comes with more things for free. Other than that this is my go to device now when i play.
Musical Background:
Guitar 17yrs
Musical Style:
Rock, metal, blues
5 of 5 people (100%) people found this review helpful. Did you?
Thanks for your opinion!
---
Submitted April 28, 2022 by a customer from gmail.com
"Awesome for what it is&quot
Verified Customer
zZounds has verified that this reviewer made a purchase from us.
I'll start by saying that this review will focus on the interface itself, and not on the bundled mobile software - that's a different subject which I'll touch on, but it's not really the point. The point is, for what this is, it's pretty fantastic.What this is to me is a way to plug my guitar into my phone and headphones, hear "guitar amp" coming through the headphones in a convincing way, AND not bug the hell out of the lovely lady sitting next to me on the couch (let alone the neighbors) with the kind of volume that is required for these tones in the real world. Does it sound EXACTLY like a 100W stack rattling the windows and thumping my ribcage every time I hit those low palm-muted chugs? Of course not - the physical feeling of the amp moving air is part of that experience, and this device is specifically trying to avoid that. BUT...When you dial in the software correctly, it SOUNDS like an amp. More than that, if you're using the right software, it sounds like a big room full of amps that I can't afford, which is very cool. You have to set the "Gain" knob on the interface right, but that's the case with anything - too hot and it distorts, not hot enough and the tone sounds wimpy. Easy to fix - roll that knob back and forth until it lights up green, back it off if the light turns red. The other "Volume" knob is even easier - if it's too loud coming through the headphones, turn it down; if not, turn it up. Easy.Now to touch on the software a bit - I haven't downloaded the version of Amplitube for PC that's included yet, largely because I already have the CS amps that I want loaded up in Amplitube 4 and 5 on the computer - and also because IK Multimedia expects us to pay for each version individually when switching from mobile to desktop, and I'm not willing to do that. I don't see any reason why those purchases can't carry over across different platforms, and I'm not going to buy them again. Besides, I have a desktop interface that I'm totally happy with (Focusrite Scarlett 2i2), so I wasn't buying this one for the laptop.I downloaded the mobile version of Amplitube for the iPhone, it loaded up and synced fine. As noted, I'm not buying any upgrades for this Amplitube version - AFAIC the bundled software should be good enough right out of the gate. However, just like the desktop version, the included models are underwhelming - not bad, just not really inspiring. For that, you have to buy the upgrades.Rather than giving IK more money for software I've already bought (in addition to this hardware), I took advantage of Positive Grid's sale on the first (paid) tier of Bias FX Mobile for $10, and NOW this thing is cooking. It's been a while since I played with Bias on the PC (mostly because my computer is old and cranky and doesn't load it very well), but maybe the phone just has better hardware or whatever - I do NOT care. Playing with settings on different amps and pedals, as well as different guitars with different pickups, everything comes through. From the crazy high-gain metal to ultra-clean single-coil tones to in-between bluesy stuff, it all comes through sounding like it should. I'm especially impressed with how well the interface translates the pick attack and volume/tone knob settings coming in from the guitars, this is something that modeling doesn't always do well and it's really cool that this little bit of hardware allows it to work right. Sound quality is excellent throughout; it does not sound like a cheap plastic box whatsoever.So, ignoring the bundled software, this is WELL worth the money, at least for playing on the couch while my girl is watching her shows (and especially when we're in bed and I can't sleep!). I haven't plugged in the "Amp Out" to an actual amp yet, but I expect that the performance will be as good as with headphones if not better. Same with the PC integration, I can't imagine that it will have any serious issues as an interface for a full-sized computer running good amp-sim software. As noted above, no headphone amp will ever provide the "Full Stack on 10" experience, but as long as you're not expecting that, you'll be happy with it.The only "below-5" ratings I included were:Quality: I would prefer that it be in a metal, rather than plastic, enclosure. I don't plan on gigging with it, but as an "on-the-go" device, I would like to see it as close to bulletproof as possible - guitarists are notoriously hard on our gear ;)Manufacturer support/Wow Factor: These are both due to IK Multimedia's lack of better software support infrastructure. I don't necessarily expect them to provide a LOT of extra software with a hardware device, BUT when I've already paid for software on one platform (Amplitube), there's no technical reason why that same software add-on (DLC, basically) shouldn't work with every version of the software. Boo.
Did you find this review helpful?
Thanks for your opinion!