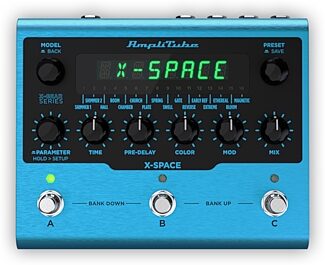 Packed with 16 plates, halls, springs, shimmers, plus cabinet IRs, this powerful pedal puts AmpliTube FX at your feet! Get connected with USB and MIDI I/O.
$329.99
---
No Credit Check

No Credit Check
Overall User Ratings
(based on 3 ratings)
Submitted May 24, 2022 by Christopher S in Tampa, FL
"Look Out 'Sky, There's A New Gunslinger In Town&quot
Verified Customer
zZounds has verified that this reviewer made a purchase from us.
I already own a few 'verb pedals that are in the same price range as this, and never thought that my Blue Sky could be replaced or improved upon. Boy, was I wrong! This pedal is just as impressive as my 'sky, and allows me to effortlessly explore new ideas. It is actually forcing me in new directions due to it's versatility. I've been playing 38 years and only wish that I had access to gear like this back in the 80's. We are indeed in the golden age of effects for guitarists, fellas. The selections to choose from and sites like zZounds has them all here to see and buy. I was able to noodle around for an hour or two at first and stumbled into all sorts of amazing sounds running this directly into my Supro Delta 12 from a Peerless Firefox Custom. I was absolutely FLOORED. There were almost too my possibilities and directions to go. Once I settled down and went through the manual and hit up youtube for more tips on it's use, a thousand new worlds opened up musically, and I hit record and started laying out ideas and soundscapes for further exploration later. The new ideas just seemed to be everywhere as I tweaked knobs on this thing. It;s not small by any measure, but the best 'verb pedals rarely are. It's almost otherwordly what this thing inspires and helps you create. I own 50 or 60 pedals easily now, and my poor wife is going to be shocked if I pass before her. There will be a literal gold mine of pedals filling boxes in addition to my 36" board that is already packed. This pedal has earned it's places among the best I own, and I'd recommend it to anyone in search of new ideas and inspiration, this pedal has it in spades. I'm grateful to zZounds for making it so easily accessible to even casual musicians. I'm a disabled Iraq vet getting by on my Army pension, and the payment plans here made owning this a possibility that I'm grateful for. If you give this pedal a chance, new doors may open to you and tons of aural landscapes will appear. Give this one a go with confidence.
Musical Background:
38 Years Of Everything
Musical Style:
I cover everything from the 1950's to the 2020's over my 38 years on the fretboard
4 of 4 people (100%) people found this review helpful. Did you?
Thanks for your opinion!
---
Submitted March 12, 2022 by Doug c in Fairborn, OH
"Awesome pedal&quot
Verified Customer
zZounds has verified that this reviewer made a purchase from us.
I agree with the last review, this pedal definitely stands on its own and keeps up with the other Big blue Box! It's algorithms are top notch, with a lot of them only found on this pedal. I've had mine since the first week it came out and couldn't be happier! I've owned tons of $300 plus verb pedals and this is my favorite so far.
Musical Background:
35 year's play Guitar
Musical Style:
Rock , electronic, Ambient
2 of 2 people (100%) people found this review helpful. Did you?
Thanks for your opinion!
---
Submitted December 31, 2021 by Allan B in Tempe, AZ
"Why aren't people raving about this?&quot
Verified Customer
zZounds has verified that this reviewer made a purchase from us.
This review has been selected by our experts as particularly helpful.
I normally wait until I've had some quality time with gear before I review it, but in this case I've not seen any customer reviews on these X pedals and wanted to get the word out! In my brief time with it I'm extremely pleased. The sounds are top notch. IMHO it's targeted towards people who enjoy ambient soundscapes more than folks just looking for a decent all and spring. It's not inexpensive, but it definitely can hold its own against the big boys of reverb. It's probably no coincidence that they are of similar size and color to a well known effect company out of Westlake Village, but it's not a copy by any means. The X-Space has its own voice. It has an old school appeal with a big LCD display and layout and the bright colors look cool on the board. Overall I'm very pleased with this reverb and would recommend it to anyone looking for big verb sounds.
Sound
From the perspective of someone who loves big washy ambient carry me away types of reverb, this pedal is full of top notch sounds. Many of the algorithms are standards for a box like this but some of them are pretty unique like the Extreme and Ethereal, and all are musical and useful. The modulation is really good and the shimmer actually doesn't suck. I've owned all the big name verbs, Strymon, Empress, Ventris, Neunaber, Specular Tempus, and this is well within that sonic ball park. The pedal is best enjoyed in stereo. If you play mono you may not get as much out of it. I'd recommend you check out the Chords of Orion demo on YouTube to hear what this box is capable of.
Features
The control interface and LED display are a little dated looking for sure, but they are functional and easy to navigate and easy for an old guy like me to see! No menus to fuss with and no PC editor needed. I like that it has full size 5 pin MIDI in and through instead of TRS. I know TRS is the future but until they can all agree on what type of TRS it's a pain and usually requires some sort of disaster area box to make them all talk. This is straight up old school and I like it. I also like that it has 3 footswitches for quick preset changing . It also comes with a PSU which is always a plus, but will run off any standard pedalboard PSU that has 300ma or higher outputs. The only slight nag I have is the clicky footswitches. I am spoiled by the smooth silent switches on most pedals these days. Other than that I can find no cons with this pedal.
Ease of Use
Unlike a lot of gear most of the presets are usable for big verb sounds. With the bulk of the operations done right on the front panel with knobs it's very easy to tweak the presets and dial in your own great reverbs.
Quality
It feels sturdy and well built. Not incredibly heavy but not cheap feeling either. I would imagine over the years the plastic knobs would take a beating, but that stuff is easily replaceable. If you were wondering, they are made in Italy not Asia. Think Maserati not Fiat :)
Value
If you've priced out reverbs from Strymon and Empress then you know $300 is a great deal for a reverb this powerful. Well worth the price if you ask me.
Manufacturer Support
I've owned several IK hardware and software products over the years and used support a few times. They've always been pretty quick to respond considering the time difference etc. They have a support forum as well that IK staff and other end users will respond for general questions etc.
The Wow Factor
If you are into big sounds, P&W, ambient/experimental this is going to put a smile on your face. Of course it does the standards quite well too so it will be at home on any pedalboard. If you like basic up front controls without lengthy and deep menus or a required PC editor, this pedal is going to put a smile on your face.
Musical Background:
Playing over 40 years and still plunking around in bands
Musical Style:
Rock, prog, ccm, whatever the band tells me to play
1 of 2 people (50%) people found this review helpful. Did you?
Thanks for your opinion!