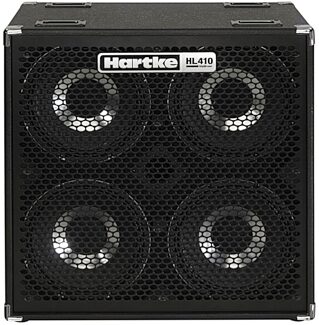 Full-on bass tone without all the weight! The Hartke HyDrive HL410 cabinet delivers 1000 watts of pure bass power while weighing in at only 45.3 pounds.
Overall User Ratings
(based on 2 ratings)
Submitted March 14, 2022 by a customer from live.com
"Powerful … Great tone … great bass cab it's &quot
Verified Customer
zZounds has verified that this reviewer made a purchase from us.
The 1st thing I noticed when my hydride hl410 arrived was how light the box was . That was one of top selling points for me since I have been contemplating starting my own band . I have SWR Goliath3 4X10 At home that weighs at least 90lbs. This cab is 45.6 lbs . The next test was how it sounds so I hooked Aguilar TH700 up to the Hartke HL410 and it was like heaven opened its gates . It can handle 1000 Watts at 8ohns my TH700 puts out 350watts and that will force your bandmates complain it's too loud . After I pay this off I'm gettin HL15 go with it .
3 of 3 people (100%) people found this review helpful. Did you?
Thanks for your opinion!
---
Submitted January 5, 2023 by Zach F
"The cabs I've always wanted.&quot
Verified Customer
zZounds has verified that this reviewer made a purchase from us.
Ever since Hartke originally came out with the HD line of hybrid speaker cabs I had been chomping at the bit to get ahold of a 4x10 and 1x15. I've always loved the look and sound of Hartke cabs and when they announced the HL series around the same time I had a back injury I knew it was time to pull the trigger on some lighter gear. I've been successfully gigging with this set of cabs for about a year and now that the honeymoon is over, I think I can say these speaker cabinets are about 95% everything I wanted with a few minor complaints. THE GOOD:These speakers sound fantastic. I play with a TON of distortion behind my bass and even then the hybrid speakers produce perfect clarity and tone. When not using distortion I still get a tone that's punchy but with plenty of low end.The connection layouts are great and easy to read while providing multiple configurations to connect your amp. I also enjoy the ability to turn the included horn tweeter off. clean bass tones sound fine with the tweeter but distorted tones sound a little too honky for my taste. LIGHT AS A FEATHER!!! 2 of these cabs are still lighter than 1 of my old MDF Seismic cabs I was using. I feel like Hercules when moving them on stage.THE NOT GOOD:The only real complaint that I have about these cabs is the painted coating isn't as robust as I'd like them to be. Granted I haven't exactly been gentle with them but I would've expected the wood itself to be harder considering these cabs are kiln dried. Day one I noticed some chips in the paint and by the end of the year our trailer had done a number on the finish.Also a minor gripe but the casters provided are also kind cheap and flimsy but trust me, with how light these cabs are you'll never need them. Overall I'd say these cabs are every bit worth the money and I'm glad I bought them!
Musical Background:
musician for over 15 years
Musical Style:
Death Metal, Jazz, Math Rock
Did you find this review helpful?
Thanks for your opinion!