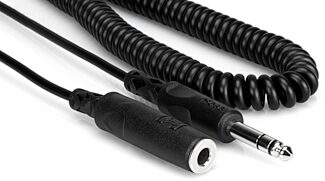 Need some extra slack for your headphones? This 1/4" headphone extension cable stretches out to 25 feet, and stays neatly coiled when you're not using it.
Overall User Ratings
(based on 0 ratings)
Submitted April 22, 2009
Hosa Headphone Cable Customer Review
Features
These coiled style cables are very irritating. Sure they kinda reach what you want them to, but they like to pull back to their coiled size. If you think that this coiled cable is going to help reduce clutter or confusion in your studio/jamspace you are in for a suprise. I would take a 10 foot, uncoiled, headphone extension over this ANY day.
Value
i don't think i could get someone to talk me into using this even if they paid me!
The Wow Factor
why would a headphone extension have "sex appeal"?
7 of 16 people (44%) people found this review helpful. Did you?
Thanks for your opinion!