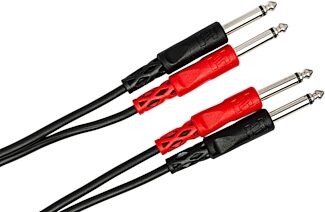 Plug in and start thrashing and slashing away with this versatile and durable dual instrument cable from Hosa -- perfect for stereo keyboards.
Overall User Ratings
(based on 4 ratings)
Submitted August 20, 2011 by a customer from msn.com
"HOSA Quick Patch Cable&quot
Sound
Great Flexibility for running two signals to a direct feed in. Using two keyboards. One a PAD and the other a LOOP. Works great so instead of running two separate cables to the keys rigg I just ran a dual cable. FYI Monster Cables do not belong on the ROAD!!!!! Monster Cables are way to bulky and thick to run and cause people to trip up when they walk over them. So save some time and go with some real cables. Or go wireless with the PKG Wireless System with rechargeable packs.
Features
Not many feature but it works for patching in last minute stuff!
Quality
Best Ease of use and very good quality!
Value
Cheap but good to have on the road!
Manufacturer Support
Haven't actually used any support yet!
The Wow Factor
Only if it came in all black!
Musical Background:
Lead Show Production Technician
Musical Style:
Christian Worship
5 of 6 people (83%) people found this review helpful. Did you?
Thanks for your opinion!
---
Submitted September 5, 2009 by a customer from yahoo.com
"It´s the level of quality I´ve come to expect from Hosa.&quot
"How long do [I] expect to be satisfied with this product before searching for another product?" I was never satisfied in the first place. Learn from my experiences, and just leave this, and all other Hosa products ever made, alone. Save yourself the trouble.
Sound
At first, it sounded ok for running an electric piano to an amp. I used it for drumline shows at school, and regret every second of not having brought in one of my Monster cables. After a while, it just sort of wore out. The cable didn't die completely. It just sounded awful. One side barely transmitted any signal, and the other just sounded weird. When I played really low on the keyboard, it would start popping and crackling. That's not the sound we were going for, but it's what I've come to expect from Hosa's cables.
Quality
Really, why spend any money on a cable that can't last long enough to get to the performance and still sound good? It broke down very quickly, despite a lack of abuse. That's Hosa for you.
Value
Don't waste your money on this thing. It's just not going to cut it.
Musical Background:
Active Musician
7 of 11 people (64%) people found this review helpful. Did you?
Thanks for your opinion!