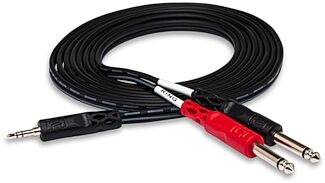 Easily connect any device with a 1/8" stereo output to your mixer's standard 1/4" inputs, with this sturdy, affordable cable from Hosa.
Overall User Ratings
(based on 6 ratings)
Submitted August 6, 2009 by a customer from yahoo.com
"It all boils down to one simple fact: You shouldn´t bother trying this product.&quot
"How long do you expect to be satisfied with this product before searching for another product?" That was a dumb question. My satisfaction with this product never really existed. In short, don't buy it. That's all you need to know.
Sound
This cable sounds pretty good, but it adds a bit of noise to the signal. I've used it for recording, and it's passable. However, I'd like something with a little less noise.
Ease of Use
You'd think a cable would be easy to use. Think again. This thing needs constant adjustment to get it to sound. The right channel is very faulty, and will often stop working.
Quality
I would never consider using a product of this caliber on the road. Hosa cables are renowned for their short lifespan. This one is no exception. The right side will quite often stop working. I haven't bothered trying to send it back, because it wouldn't be worth it. I've worked with Hosa cables enough to know that it'd just stop working again in another couple weeks.
Value
A cable that lasts a few months without starting to die is never going to be worth it.
Musical Background:
Active Musician
Musical Style:
Indie rock
34 of 46 people (74%) people found this review helpful. Did you?
Thanks for your opinion!