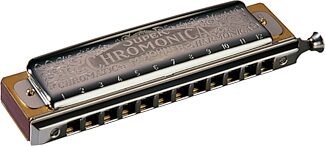 Master any style of playing with this handsome and solidly constructed chromatic scale harmonica.
Overall User Ratings
(based on 8 ratings)
Submitted June 13, 2009 by a customer from howdydave.com
"This is my second.&quot
Verified Customer
zZounds has verified that this reviewer made a purchase from us.
Features
My previous Chromnica was in the key of G because that is my voice range. This one is in C for ease of use when accompanying others and playing sheet music without transposition.
Quality
The wood finish on my previous Super Chromonica started to blister a bit.
Value
I give it a 10 because I got it when it was on sale for 20% off.
The Wow Factor
I had one before but it got lost somewhere during my travels. So... I just got myself ANOTHER one!
Musical Background:
Hobbyist
Musical Style:
Folk, church, Byzantine, my musical taste is eclectic.
12 of 14 people (86%) people found this review helpful. Did you?
Thanks for your opinion!
---
Submitted November 11, 2008 by a customer from aol.com
"Hohner Super Chromatic Harmonica -- A great harmonica in a league of its own&quot
Sound
I have now acquired superchromatics in almost every key. They are very adaptable to any kind of music and are easy to play by ear once you have got your left brain in touch with your right index (slide button) finger. I play them absoulutely effortlessly in all different genres of music now. I very rarely use a diatonic any more.
Ease of Use
These things sound great as long as you have them mastered and you keep them clean and the slide well lubed. Yes they do require maintenance.
Quality
My only complaint about the superchromatic is that I have had two crack along the back wood causing two reed chambers to run together. This was probably cause by washing. The fix is actually quite simple though....fill the crack with a flexible plastic or synthetic wood cement. I would hesitate to use anything rigid like JB Weld in the wood.
Musical Background:
accomplised semi-professional
Musical Style:
blues, jazz, rock, cross-country, country, popular, etc.
22 of 27 people (81%) people found this review helpful. Did you?
Thanks for your opinion!
---
Submitted February 7, 2008
Hohner Super Chromonica Customer Review
If I could have only one harmonica, this would be the one.
Sound
This is what a chromatic harmonica should sound like.
Ease of Use
I have three chromatic harmonicas; Seydel, Hering and the super chromonica. This is the easiest to play.
Value
Not the cheapest by any means, but you get what you pay for.
Musical Background:
Hobbyist
18 of 20 people (90%) people found this review helpful. Did you?
Thanks for your opinion!