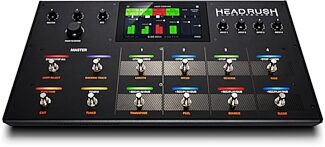 Step up your loop game! Record, overdub, play, undo/redo, and peel off layers with 4 stereo looper tracks, 12 footswitches, a huge 7" screen and HeadRush FX.
Overall User Ratings
(based on 3 ratings)
Submitted February 10, 2021 by Nick S in St louis, MO
"Seriously flawed. Do not buy.&quot
If it worked as advertised it would hands down be the best looper on the market. But its not worth getting into the features because... it doesn't.First problem is that the foot switches are garbage. Aside from being unreliable, look at their forum, you'll find people demonstrating that they plain crapped out after a few months. There's already a thread about how to replace/upgrade them. How could they not have known about this?I filmed an issue early on. They updated the firmware and that problem was fixed! That got my hopes up, so I decided not to return it. Of course now its too late and the glitches and bugs have only piled up since then. I've used it at three gigs and its crashed at least once each time, requiring a restart.MIDI tempo lags behind and fluctuates. They say they fixed this in the latest firmware update but I see no change.The touch screen is a game changer… but it also has issues. The keyboard sometimes seems to fall asleep and won't pop up until you restart. Hopefully you didn't need to save anything. It supposedly works with expression pedal. I plugged mine in and assigned it to control one track volume. Instead, it mutes all the tracks completely and they can't be turned back up. Requires a restart.
The undo/redo feature has a mind of its own. It would get confused. Now I cant undo/redo without triggering stop/start. I've double and triple checked the settings and even done a factory reboot. No luck.Serial mode, where it goes from one phrase to the next, sometimes gets confused and plays multiple tracks simultaneously. This should be impossible, to my understanding. Regardless, it happens often enough.Maybe mine was just a lemon. I posted videos of all of these behaviors on youtube (I'll link some here!) and their forums, didn't get anywhere. An exchange has been initiated but they're OUT OF STOCK so its going to be two months till I even get the replacement that I don't want.Don't waste your money and time. Try Ableton.
Sound
Sound quality and routing options are unparalleled. But that doesn't matter if it crashes and resets mid loop.
Features
The crashing, the bugs, the glitches, the broken switches. The lack of support or knowledge is also a problem.
Ease of Use
When it works, it's great. But it doesn't.
Quality
No. It is not made well. The switches are garbage. Google and you fill find examples.
Value
It is the price of a cheap car. If that sounds reasonable for a loop station, I disagree but I guess that's your opinion.
Manufacturer Support
Awful customer service.
The Wow Factor
Super enticing. Again, if it worked, it's the best. It doesn't. It sounds too good to be true because it is.
Musical Background:
Professional solo musician
9 of 9 people (100%) people found this review helpful. Did you?
Thanks for your opinion!
---
Submitted August 4, 2019 by Jeffrey Richard in Orlando, FL
"A Seriously Serious Looper&quot
Verified Customer
zZounds has verified that this reviewer made a purchase from us.
I have no previous experience with loop pedals of any type, yet, within a few minutes I was able to unbox, hook up a guitar, bass, mic, and keyboard and start looping. 4 inputs, 4 outputs — you can send output signal to any number of amps, PAs, frfr speaker cabinets— however you like. The looperboard comes with a number of effects to assign to input channel or to a track. Each of those effects racks can be delved into to tweak the sound, and those settings once customized can be saved and retrieved solely through the foot switches. I purchased this principally as a creative tool for arrangements , but the ease of setting this up and using live can't be understated... great piece of gear from Headrushfx
Musical Background:
Bass, guitar, keyboard, violin, percussion
Musical Style:
Rock, blues, folk, Afro-Latin
8 of 11 people (73%) people found this review helpful. Did you?
Thanks for your opinion!
---
Submitted August 2, 2019 by chris m in irvine, CA
"No technical support and no clue either&quot
Verified Customer
zZounds has verified that this reviewer made a purchase from us.
I upgraded the firmware exactly as the instructions stated (I'm an engineer) and at the conclusion all the loops were gone. I filed a tech support case with Headrush and they sent me a confirmation email then NO RESPONSE after a week. So I called them and the guy on the phone had zero clue how to fix the issue, in fact I don't think he even understood what I was talking about. Apparently in order to get a job in technical support at Headrush you just have to have a pulse and be able to fog a mirror with your breath. zZounds was great about taking the unit back for a refund. Don't buy this my peeps, you will be disappointed.
Musical Background:
30+ years as a guitarist
13 of 24 people (54%) people found this review helpful. Did you?
Thanks for your opinion!