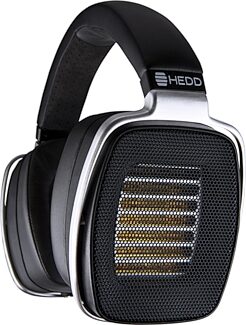 HEDDphones use Air Motion Transformers, visible from the outside of the open-back earcups, to deliver an incredibly rich soundstage and pristine high end.
Overall User Ratings
(based on 2 ratings)
Submitted March 17, 2023 by a customer from gmail.com in Houston, TX
"Awesome in all categories&quot
The overall sound signature is amazing. It is a warm neutral signature. Its presented with a flat profile, all instruments and voices are natural. The clarity, depth, imaging, separation of instruments are awesome. These are on the level of the Senn HD 800s, maybe better depending on the listener. I am audio engineer and I use these for my work. It will need a high power quality amp to get the best out of them. However they still give you good sound without an amp, I am not going to sit here and say its an absolute must, like most reviews and websites say, its just silly to say they don't put out sound unless you get an amp. The type of amp matters though. As I started with the THX 789, it was ok, but it was below others price more when tried. I upgraded to a singular amp, the sound changed quite a bit and better. I also use them with my Onkyo Denon AVR-X2700H, it brought out the depth and separation of instruments to a whole new level. I would say there veryfew headphones that can compete sound wise and technically at $1899 and below, they compete in the $3000k range with Hifiman He1000se. Heddphone do need sometime to break in at least 20 hrs. I recommend if price is not an issue as if you buy these theres no need to buy $3k to $4k priced headphones, unless you have specific taste as in bright or warm sounds.
Musical Background:
Mix Engineer
Musical Style:
Hip Hop/R R&B
Did you find this review helpful?
Thanks for your opinion!
---
Submitted April 23, 2022 by a customer from charter.net
"Clean, Clear, Analytically Lush(?), DEMANDING...&quot
Verified Customer
zZounds has verified that this reviewer made a purchase from us.
I had these for about 5 weeks, trying to integrate them into my 'semi-pro' recording/engineering pursuit, while also using them for pleasure listening on my high-end Home Audio rig. I only used these balanced, and recommend you do the same. The problem with that is I had to pay ~$170.00 to get a balanced cable!!! Are U kidding? These headphones DEMAND a high current, high quality Headphone Amp that can thake them as low & (gorgeously) high they can go. I used a trusty Neve HPA for these and it was barely up to the task. I finally got th ebest results with an xDuoo TA-20 modded with better tubes & a high-current power supply from Amazon. In summary, I LOVED these cans but they had enough weaknesses at their price point I had to RELUCTANTLY return them. They take EQ well and you will ABSOLUTELY have to EQ the octave between Low E 440Hz on a std 4 sting bass, (42.1 Hz), and appx 25Hz. You DEFINITELY will need a bump right around the low B on a std 5-string bass (~31 Hz). Please use a really good EQ with adjustable "Q" for each freq. For instance, my Q rating for 31Hz was 4.4! These need a narrow correction in the band between 20 Hz & 50Hz, approximately. I loved them so much I wanted to keep them, but had to take advantage of Zzounds return policy. GREAT PRODUCT; be prepared to do some serious tweaking to use for serious work.
1 of 1 people (100%) people found this review helpful. Did you?
Thanks for your opinion!