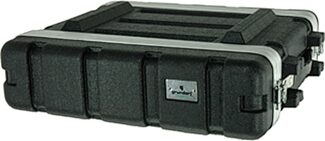 Protect your power amps -- or any rackmountable gear -- in these rugged, lightweight road cases. High-density ABS shells keep your gear safe and sound.
Overall User Ratings
(based on 2 ratings)
Submitted March 20, 2018 by Kyle M in Midland, TX
"Good Value&quot
Verified Customer
zZounds has verified that this reviewer made a purchase from us.
Overall a great unit, exactly what I needed!
Features
The latches on the case are nice and seem sturdy but there's no way to lock them to keep people out.The Handles are bolt on and protrude into the case making the overall outer dimensions larger but give enough clearance on the inside. They also seem sturdy enough. They are not removable. The doors fit snugly and have a decent lip for some sealing quality, the back door has a zipper mesh attachment around the entire inside of it for storing cables and other small items which is nice.The chassis features legs on the bottom and grooves on the top for stacking multiple cases which is nice for job specific cases.
Ease of Use
Easy as could be, hardware included for mounting devices. Latches are easy, lids go on snug with no fuss.
Quality
My biggest gripe is that the abs body thickness is not thick. Its thin enough it has flex and I feel like a good drop from the back of a truck or the top of a stack of gear it could break, maybe. I don't intend to test or put my recording equipment in precarious places either, but accidents do happen.A smaller complaint is the mounting brackets are holes drilled into the chassis aluminum with corner screws holding the rails that have the threads the screws grab onto. The rails were a little uneven so I loosened the corner screws at the top and bottom holding them and adjusted to center as best I could. Even with adjustment there was a small gap on one side where the other was flush. It's not a real drawback nor is it anything that will affect mounting units into because it so small but it was noticeable to me and I wish I could have had it level.
Value
For the price, convenience, and piece of mind it's a good value. I know there are better but I'm not touring, just gigging and it's up to me take care with/of it. It's exactly what I need to do what I need and I'm happy enough I'll be getting a second for in depth recording devices to accompany my basic plug and play rig.
The Wow Factor
For the price it's awesome, you can spend more on something that handle being dropped from a moving truck and that's fine. But for the average gigging artist recording live bands and doing on the spot sessions it's excellent. With a power conditioner I only need 1 plug into the wall and the USB to the pc, then whatever mics I need and I'm in business!
Musical Background:
Home recording and jam sessions
Musical Style:
Metal, rock, blues, electronic
2 of 2 people (100%) people found this review helpful. Did you?
Thanks for your opinion!
---
Submitted August 31, 2018 by Bucks Loudhouse
"lid latch nopes&quot
Verified Customer
zZounds has verified that this reviewer made a purchase from us.
Everybody tries to beat SKB on prices. I fell for it to save 20 or 30 dollars. NOPE. Only 3 months in, these cover latches are slipping. They rattle loose just walking with the rack, and drop on the ground, sometimes just picking up the rack. FAIL. At least the screws hold the gear in; that part is fine.
Musical Background:
+30 years audio & guitar. performer, sound contractor, demo studio owner
Did you find this review helpful?
Thanks for your opinion!