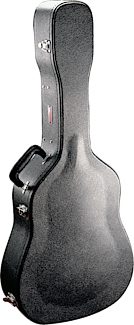 Allow your dreadnought acoustic guitar to rest in this plush-lined hard case. It even has a storage compartment for straps, picks, and other accessories.
Overall User Ratings
(based on 3 ratings)
Submitted June 6, 2007 by a customer from asde.net
"Gator Quality That's Affordable&quot
Verified Customer
zZounds has verified that this reviewer made a purchase from us.
I'll keep this case, period. Good protction inside and out and after all, it's a Gator! Much better (other than storage) than the Martin that came with it.
Features
The storage compartment is VERY small. Enough room for a tuner and capo and a few other items. Other than that, I rate it a 10
Ease of Use
Hinges are alighned perfectly. Fits my Martin DX1 to a Tee.
Quality
Solid and well built. 5-ply w/arch top will protect my guitar very well.
Value
Other than the lack of storage area, a completly satisfactory case.
Manufacturer Support
Never had a reason to try, and this is my third Gator case.
The Wow Factor
A very nice case with super inside lining. A very good "arch" to the top and the hinges are completly aligned with the latches. My Martin case was just the opposite, for what it's worth. And the Gator costs $80.00 less!
Musical Background:
Hobbyist
Musical Style:
'50's/60's Rock & Roll & Country
5 of 5 people (100%) people found this review helpful. Did you?
Thanks for your opinion!
---
Submitted May 18, 2011 by a customer from stjoelive.com
"Better than nothing--but not by much.&quot
I've only had this case for three months and I'm already seeking a replacement since I do a lot of open mic competitions and need extra storage capacity for capos, tuners, spare strings, patch cables, and even a small-diaphragm condensor mic. Once I find an adequate replacement, this is going to some musician who has no money and will settle for any case.
Features
The storage compartment is too small to hold anything more than a tuner, a few spare picks and a capo. It's insufficient for carrying spare strings, and a patch cord (if your guitar has a pickup installed.
Quality
While this is marginally better than a chipboard case, it's quality is poor compared to other hardshell or hybrid cases, especially in this price range. For one thing, the advertising hype is inaccurate at best, if not false. The plywood is not a 5-ply. It's only a 3-ply. And the material is described as "luan" which, while sounding exotic, is a cheap grade of plywood made in the philippines which has a reputation among woodworkers for lacking in durability because the plies tend to separate in high humidity. I wouldn't depend on this kind of case if I was a gigging musician but it might be adequate for a weekend warrior if the price was reduced about $50.
Value
This might be a good value if the street price was less. As it's currently priced, I believe a molded thermoplastic case in the same price range or a hybrid [closed-cell polyfoam] case costing less would provide superior protection for a lower price.
Manufacturer Support
Never had to deal with Gator for customer service.
The Wow Factor
There's nothing compelling about this case.
Musical Background:
40 years active musician
Musical Style:
Psychedelic Country Gospel
2 of 2 people (100%) people found this review helpful. Did you?
Thanks for your opinion!