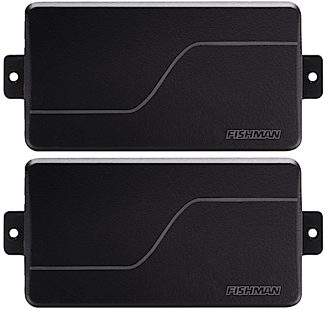 Span the cleanest and most aggressive dirty tone with this pickup set designed in collaboration with Killswitch Engage's Adam Dutkiewicz and Joel Stroeztzel.
Overall User Ratings
(based on 3 ratings)
Submitted October 26, 2018 by Christopher Frantz in Saint Clair Shores, MI
"Buy these pickups and ask no questions.&quot
Verified Customer
zZounds has verified that this reviewer made a purchase from us.
I have always been looking for a really clear tight yet mid tone with a pulled back high end pickup that doesn't suck. These are exactly just that and more. These are the best I've ever used 200%. I however have a Les Paul and like total control of my tone characteristics so I used the modern humbucker wiring and I am just blown away with the clarity of these and I can't say it enough. hell do like I did buy more than one set you're going to want to once you wire these in. I am putting these in all of my guitar's from here on out.... SORRY EMG BUT I'M SOLD ON THESE GUYS.
Musical Background:
Multi instrumentalist of 30yrs
Musical Style:
Grunge Rock and Metal.
2 of 2 people (100%) people found this review helpful. Did you?
Thanks for your opinion!
---
Submitted March 14, 2022 by T Pewl
"First ever Fishman's but won't be the last ever.&quot
Verified Customer
zZounds has verified that this reviewer made a purchase from us.
I LOVE these pickups and I can't wait to try out different Fishman Fluences.
Sound
The best way I can describe the sound of these pickups is just they're clear. I've never played through a crisper or clearer sounding pickup in almost 20 years of playing guitar. And I've played through just about all different kinds of pickups for electric guitar. Just Matt Heafy said they honestly make me a better guitar player. When I heard him say that I thought to myself how does a pair of pickups make you play better? I found out very quickly that he wasn't kidding and why that is and my best explanation is they are so clear that I can literally hear everything from when the pick strikes the note I'm playing to when the notes dies off and everything in between. I can hear any mistakes I make so I can improve on them. If there's a note in a chord I am playing that doesn't ring out I can tell which one it is with these pickups because I can hear there's something missing in the chord. Something I've never been able to do pre-Fishman. The pickups are very dynamic especially in voice 2 because there's not as much output/power coming through as much as voice one. Voice 2 I can roll the volume back about half way on a high gain metal setting and get a crunch/70's rock tone. Voice 1 is like a caged animal that hasn't been fed in almost a week…. that's my best description of my favorite setting with these pickups just in your face aggressive and wanting to rip your throat out! Voice 1 doesn't really work clean but that's what voice 3 is for. Voice 3 on a clean ambient sound with lots of reverb and delay is just heavenly. Voice 2 can do clean but only if you want a modern metal clean tone. Now these are the signature Kill Switch Engage so expect some girth when you go chugging on that low drop C string but you don't have to sound like them if you don't want them to. I don't want to sound like them 100% of the time. I want to have a wide range of dynamic tones from crisp glassy country style clean that will make you look like Garth Brooks to almost any woman (so make sure you have an extended cab and an 8 foot bed on that truck because you'll need the room with voice 3)…. or crank up some voice 1 and getcha some face melting shred metal tones that make your eyes bleed and melt out of your skull running down onto the floor making a pentagram and lit candles that splits open the ground and the 9th circle of hell erupts out of the ground in front of you with Satan riding a wave of fire to the surface with the 3 headed hell beast Cerberus chained to his surf board made of obsidian and human bones just to say "damn those pickups sound incredible dude!" …. Graphic description I know and maybe I should lay of the Slayer but that's what these pickups are like for me. Yes these pickups will make you blind while shredding in front of the devil himself…. So if that's not what you want go get some Seymour Duncan's or something like that and summon some furry kittens and butterflies and go write the next Taylor Swift song.
Features
Every voice/tone setting these monsters put out is useful. I can't speak on what was used to install them or the ease of installation because I didn't install them.
Quality
I haven't used them for long (less than a week) and I'm unfortunately not familiar with push/pull mechanisms so I hope those don't wear out after repetitive push/pulling but so far so good.
Value
I don't think a week is exactly long enough to make this judgement because I don't really think these pickups should be $270.... even for a signature set. BUT.... they are better than other signature sets I've played through that aren't much cheaper than these so maybe I'm being a bit harsh. I just don't agree with these companies slapping some famous dude's name on a product that isn't much if any different than they're standard set.... looking at you EMG with those Zakk Wylde signature set.
Manufacturer Support
I have yet to reach out to Fishman directly and hopefully I'll never have to but if they're like any other AMERICAN music company then I shouldn't have any issues.
Musical Background:
I'm almost 30 and have about 20 years under my belt of playing pure unadulterated rock n' roll and face melting Metal \m/ \m/
Did you find this review helpful?
Thanks for your opinion!
---
Submitted January 7, 2018 by Trey Y in Tyler, TX
"Great Pick up!&quot
Clarity, wholeness, punch, and tone. These things DELIVER! Passive mode is A++.
1 of 1 people (100%) people found this review helpful. Did you?
Thanks for your opinion!