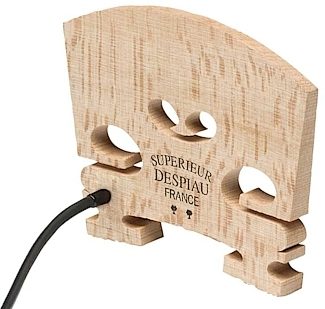 Perfect for use with a preamp, this piezo-ceramic transducer built into a Despiau bridge creates an easy-to-install and highly consistent violin pickup.
$229.95
---
No Credit Check

No Credit Check
Overall User Ratings
(based on 8 ratings)
Submitted January 12, 2010 by Mark Weeg
"Three hundred dollars, the cost of DISAPPOINTMENT.&quot
Happy with this product -- maybe 2 minutes. Until you plug it in. You can supplement with a pre-amp. There's more outlay. Not to mention the electrician to wire it, and the new parts for the plug-holding structure. The only thing it's better than is a barcus wedge-it-in-the-crack pickup. Now that's the pits.
Sound
A cheap tinny tin-horn sound, very weak, needs pre-amp, totally unsatisfactory in the bass range of my violin. Worked okay with pre-amp and HEAVY equalization on professional sound system, but this is not always available, even to me. If it's a tiny-bugle sound you want, then go ahead. But mind you, I use a pickup now that costs under TEN DOLLARS and works a MILLION times better than any in-the-bridge pickup ever could. I'm just sayin'.
Features
No, no accessories included. A pre-amp would be MANDATORY if you're going to use this.
Ease of Use
It's easy to use, I guess, if you have someone install it on your violin. Plus, you have to get an electrician to hook a plug up to it. Then you have to clamp that plug onto your (precious) violin. All in all, not the best.
Quality
Okay, it's well-made, for what it is. It doesn't have the external blop all other in-the-bridge violin pickups have, so that's okay. I kind of wonder just how big the sensor is inside -- though I am SURE it's microscopic when compared to what I use now. (see above)
Value
At this price, it should be LOTS better. But they are limited to the elements they have. Get a pre-amp -- plus the cost of this unit -- and DANG that's a lot of money.
Manufacturer Support
No, no dealings with the company after sendingn them money.
The Wow Factor
Sure, it shows a clean line on the violin, and except for the fact you have to apply a plug to the wire they use, and then apply that plug to your violin's edge -- which detracts (in my opinion) from any "sex appeal" it may have, well, there's better ways to mic a violin, that's all.
Musical Background:
Published Collector, Active Musician, Many other credentials.
Musical Style:
classical, folk, bluegrass, scottish, cape breton, french-canadian, cajun, irish, gypsy
30 of 39 people (77%) people found this review helpful. Did you?
Thanks for your opinion!