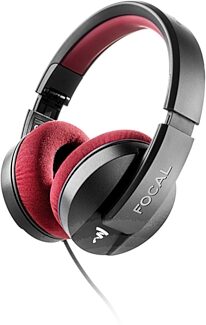 Get comfortable in your headphones with Focal's Listen Professional closed-back studio cans, with detachable straight and coiled cables and case included.
$299.00
---
No Credit Check

No Credit Check
Overall User Ratings
(based on 3 ratings)
Submitted October 6, 2020 by a customer from gmail.com in DENTON, TX
"Preeminent Phones&quot
Verified Customer
zZounds has verified that this reviewer made a purchase from us.
These cans not only feel great to wear but sound excellent. Tight low end, warm mids, and detailed highs. Made me a Focal fan for life.
Musical Background:
Hobbyist, Producer, Programmer, Synthesist
Musical Style:
New Wave, Synthpop, Industrial, Instrumental
13 of 14 people (93%) people found this review helpful. Did you?
Thanks for your opinion!
---
Submitted December 31, 2022 by a customer from hotmail.com
"Fine if you get lucky&quot
Verified Customer
zZounds has verified that this reviewer made a purchase from us.
Good, full sound, decent tonal balance but with bass boost, nice accessories, good ambient isolation, but short headband arms will make this difficult to use or outright unusable for folks with the biggest heads. If you try out 10 new headphones of the exact same make and model, you would notice very subtle differences in sound between them, but with Focal Listen Pros, the differences will be much, much bigger. The drawbacks of this headphone are too much for the asking price, but it can be alright if you score one during a sale AND get lucky. There are better alternatives at a much lower price, and sound-wise this doesn't even kill DT770, K553, M50, or SRH840.
Sound
Fine sound for the most part, tight-ish lows, clear and present vocals, present enough highs. The thick, tuneful bass will have you tapping your feet with the beat of the music. Slightly tinny sound. I enjoy it most for casual listening, but for monitoring, I'll be sticking to my Pioneer HRM7.
Features
The ambient isolation is pretty good on this, and the storage case and cable options are welcome bonuses. Unfortunately, the headband padding is too skimpy, you'll likely find this terribly uncomfortable if you are bald or have thin/little hair. However, you can add a Sennheiser HD280pro headband pad to fix the issue. This is a disappointing let down for the price, pretty much any other studio headphone has better headband padding. Then there is one more, baffling issue. The headband arms don't extend much, so folks with the largest heads can't even use this headphone, unlike every other studio/casual headphone around. The headphone barely fits my medium-sized head. I don't know why they would make such compromises, we're not talking about some $15 headphone here.
Ease of Use
The Listen Pro is efficient and easy to get usable volume levels out of anything.
Quality
The materials are fairly durable, the plastic reminds me of Sennheisers like HD25. But it comes with a caveat: poor quality control. Others complain about it regarding Focal headphones in general. My first Listen Pro had good channel balance overall but massive 16kHz treble peaks in both channels. Brighter mixes are fatiguing on that headphone. A second Listen Pro I tried lacks the excessive treble peaks but has massive channel imbalance in the 5k-8kHz region. I guess I am finding out how loose their manufacturing tolerances are. It will take some luck to get a good headphone of this model, and that's not necessary at all for all the $80-$200 monitors, then this thing is normally $300.
Value
I don't recommend the headphone at full price, the quirks are a bit much for what you pay, and the sound quality is more in line with $150-$200 headphones. I'd recommend DT770 instead, and EQ it if needed for whatever you want to use it for.
Did you find this review helpful?
Thanks for your opinion!
---
Submitted November 29, 2022 by a customer from hotmail.com
"Okay&quot
Verified Customer
zZounds has verified that this reviewer made a purchase from us.
This headphone is alright. It is not as revealing of what is in a mix as DT770, but it does provide a similar amount of ambient isolation at least, and the bass is punchier and deeper. The clarity is decent and the sound is tight, but then there's a massive 16dB treble peak at ~16kHz that can be fatiguing with bright music and sounds, just what in blazes? Well, at least tonal balance is otherwise fine, decent balance throughout vocals and treble (ignoring the giant treble spike), and bass is strong and punchy. Treble is a bit dark and vocals are warm, so the sound is quite pleasant for casual use, too, in my opinion. I have to warn anyone reading this, the headband arms extend very little, so this headphone is a no go at all for people with big heads. It barely fit my medium-sized head. Headband padding is stupid skimpy, you will need an HD280 cushion or thick hair or it will hurt your head. Lastly, the accessories are really nice and the headphone feels sturdier than HD280pro, though the plastic seems to be of similar quality. The sound you get for the prices this tends to go for makes this a bit difficult to recommend over headphones from other brands that are as good or better and cost much less.
Did you find this review helpful?
Thanks for your opinion!