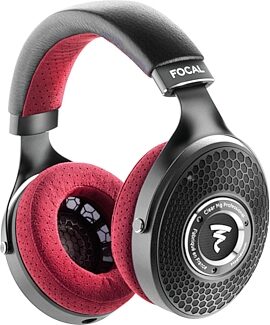 Leave no detail behind! With an over-ear open-back design, Focal Clear MG Professional headphones deliver a near unbelievable 5 Hz - 28 kHz frequency range.
Overall User Ratings
(based on 1 ratings)
Submitted January 12, 2022 by a customer from misquez.net
"Exceeded my expectations&quot
Verified Customer
zZounds has verified that this reviewer made a purchase from us.
This review has been selected by our experts as particularly helpful.
When I purchase $1500 headphones I have extremely high expectations. Let me say that my expectations have been more than surpassed. I have only owned these headphones for a short time but here are my thoughts on them so far. Packaging - I love packaging. I mean I LOVE it. I have so many retail boxes stacked around my room it's insane. This packaging is fantastic. Every bit of it feels premium. Build Quality - I was very pleased when I took these out of the case. They feel very solid and well made. The metal is well machined. The leather (Pleather) feels super soft. The padding on the headband and ear pads is spongey yet firm which makes it very comfortable. Comfort - I have a GIANT head. Not a large head a GIANT one. Finding headphones that fit and are comfortable is extremely difficult. These fit my head like a glove. They are large enough and don't clamp my head like a vise. The earpads are large enough to accommodate large ears and don't get hot. Sound Quality - Let's face it this is why you spend this kind of money on headphones. It's all about the sound. Everything can almost be overlooked if they sound good enough and these do.I am not an audiophile. I lack the technical knowledge and vocabulary to convey the sound that comes out of these headphones but I'll do my best to give it a shot. Treble - The treble is detailed and articulate without being piercing or fatiguing. On 'So What' by Miles Davis the trumpet sounds like it's right next to you but it doesn't make your ears bleed or turn the volume down. Mids - The mids really shine on these headphones. They are warm and present without having to look for them. In 'Baby Plays Around' by Anne Sofie von Otter it sounds like she is singing in the room with you. It's breathtaking! Bass - For an open-back magnesium driver I was surprised how punchy the bass is. It's plenty for me anyway. On 'The Outsider' by A Perfect Circle, the electric bass is distinct and forward without overpowering the track. The bass drum is deep and rumbly. Accuracy - I feel like I can hear it all. In 'Waltz From Swan Lake' by Tchaikovsky the subtle strings are crystal clear and the whole orchestra feels fast and real. It's pretty magical. Dynamic Range - I feel like this puts it all together. In 'Tabula Rasa' by Arvo Pärt it just nails it on all fronts. The dynamics are just sensational. Conclusion - I think the highest praise I can give these headphones is they are worth every cent. I haven't regretted my purchase for a second. I have zero buyers remorse and I just want to have everyone listen to them so they can experience the same joy that I have! If you have the means to purchase these pricey headphones and may be on the fence, rest assured, these are on a whole different level. They are a game-changer, one you hear them you will have a hard time going back.
10 of 11 people (91%) people found this review helpful. Did you?
Thanks for your opinion!