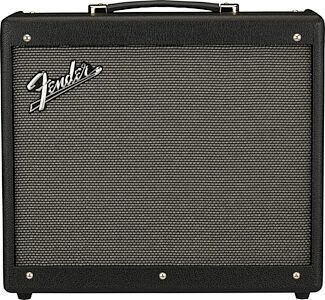 Packed with sounds, the Mustang GTX50 has 200 onboard presets. Connect an iOS or Android device to use Fender TONE 3.0 to dive deep into the world of tone.
$399.99
---
No Credit Check

No Credit Check
Overall User Ratings
(based on 2 ratings)
Submitted December 3, 2021 by Dennis Schmalz in Alma, MO
"Fender Mustang 50W GTX with pedal&quot
Verified Customer
zZounds has verified that this reviewer made a purchase from us.
this is a great amp. only got thru a few of the amps so far and I keep getting stuck like wow that sounds great. Hey I'm no expert but they sound really authentic to me. Raise the gain and you can feel them. They feel great. I'm impressed. 57 Champ sounds like a 57 champ. Princeton sounds like a princeton. That's night and day. But both are great..Bassbreaker kicks it. Wow !!
Sound
never dreamed this amp would impress me this much. just a little trouble connecting to wi/fi but that was the end of trouble. The amp really sounds wonderful to me. The fender amps are great. Just dialing thru the amps just grab you All so different and expressive. How do they do that. Cost thousands for the real deals and I'm not saying this is the same. But for me in Missouri in the middle of a corn field this amp sounds great ha. $399. Hah. With all the effects( really nice tweakable effects!!) and a looper. That doesn't sound bad at all. What a great deal. Thanks. Should tell people cost the same 50w with pedal as 100w with pedal. They charge you for the pedal with 50w and free with 100w. Didn't tell me found out after I bought the 50w with pedal. Poor sales rep
Features
40 amps a ton of effects and looper that isn't shabby
Ease of Use
you need to raise the gain in every setting to really feel the thing, it will move you
Quality
sturdy nice looking
Value
my opinion a great deal
Manufacturer Support
nope,no customer support needed
The Wow Factor
no way could I afford to play these different amps in my bedroom whenever I want hah. Loop on acoustic sim and jam lead on bassbreaker with effects just like that. NICE!!!
Musical Background:
69 years old retired nurse
Musical Style:
Been playing since I was a kid. Love the blues
1 of 1 people (100%) people found this review helpful. Did you?
Thanks for your opinion!
---
Submitted July 21, 2020 by a customer from gmail.com
"Overwhelming and mostly annoying&quot
Verified Customer
zZounds has verified that this reviewer made a purchase from us.
So I bought this due to the convenience of it. I wanted to stop with having a dozen pedals and modelling amps seem to have come a long way. And for a bedroom player, the volume and sound aren't much to complain about. [and sound of all the effects and multiple amp/cab combos aren't that bad either]. I can definitely get a decent tone from the combinations I choose or the presets already made.BUTI hate this amplifier. Without the tone app, it is NOT easy to use/customize your own presets, and even altering presets is not intuitive at all. And Tone app NEVER connects to the amp. I got it updated [huge pain in itself to accomplish], and the Bluetooth connectivity is absolutely horrendous.It says on the app to maintain a distance of 3ft from the amp for connectivity [ridiculous in itself to be hovering over the amp constantly when you're adjusting or creating effects], but it takes 10 minutes of trial and error WITH MY PHONE SITTING ON THE AMP, for it to finally connect. But God forbid I forget to maintain 3ft of distance and it disconnects, only for me to restart the process.Also, the effects are a terrible rabbit hole, more of a con than a pro for me. I found myself playing with effects more than actually playing the guitar and I'm generally just dissatisfied at the end of every "session" I try having with it.Quality is getting 2 stars because the amp itself it up to standard, but the almost necessary connectivity to the Tone app is basically a failure on Quality Control. There shouldn't be a [useless] FAQ section for connectivity issues the same day the amp is released.It's sort of like this video game comparison: play western RPG games for a few months [Skyrim, Witcher 3, Dragon's Dogma, etc], and then switch to playing japanse RPG games.. the difference is insane; you get flooded with all kinds of things you can do pretty much right away, but your direction is constantly being thrown off due to exactly that.Great idea, terrible execution. I'm going back to a traditional set up - a simple but nicer tube combo amp and a pedal board. You can't beat it for an enthusiastic bedroom player.
7 of 12 people (58%) people found this review helpful. Did you?
Thanks for your opinion!