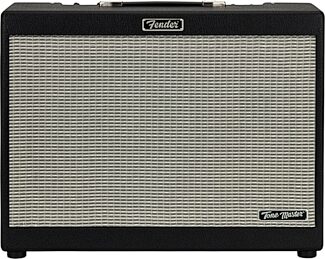 With tilt-back legs, a 3-band EQ, and a high frequency cut control, the Fender FR-12 will give some stage volume with your Tone Master Pro.
$549.99
---
No Credit Check

No Credit Check
Overall User Ratings
(based on 1 ratings)
Submitted November 6, 2023 by Allan B in Tempe, AZ
"Really great sounding cab, and a great value!&quot
Verified Customer
zZounds has verified that this reviewer made a purchase from us.
I normally would not bother with a review of a speaker cab, but the new Fender Tone Master FR and the TM Pro modeling units have been really hyped and I'm sure a lot of people are interested.I've had a love/hate relationship with modeling for the lasts 6 or 7 years. Going direct has never really been an option with the band I play in so an FR has always had to be my backline and main amplification. I would get really frustrated that I had all these great tones on my modeling unit but they never came across like I wanted with an FR. I have had Friedman ASM, Laney FR112, Headrush, Powercab+ and 212+. Some were better than others but I'd eventually get tired of fighting and go back to an amp and pedalboard. I know some of that was my own fault but frustrating all the same. I recently started using the Friedman IR-X tube preamp and had been going into the FX return of a solid state amp. It sounded ok but not great. When Fender released the FR10 and FR12 I was surprised by the price honestly, so I figured I would take a chance and see how they did. So far I have been really happy with the results. An FR will NEVER sound exactly like an amp in the room, but the FR12 does a great job of taming the highs and lows and eliminating a lot of the HiFi elements a lot of FR's struggle with. It's lightweight and loud and IMHO the best FRFR I've used so far. I've also been experimenting with it and Helix Native and really enjoying what I'm getting out of that as well. I like it so much I may go back to digital modeling full time. It's really hard to beat the convenience and portability of digital. I would recommend this to anyone looking for an amplification solution for their modeler or ampless pedalboard.
Sound
It will never be 100% amp in the room, but the FR12 does a great job of naturally reproducing your IR's and cab models. It is not a magic bullet, it can boom and fizz like any FRFR and it still takes some EQ tweaking and adjustments but the results I have been able to achieve make me happy. The FR12 is more than loud enough to hold its own in a band setting and has really great dispersion.
Features
Onboard EQ and high cut are excellent. Great for final EQ for the venue or on the fly tweaking without having to mess with your presets or pedalboard. The tilt back legs are pretty awesome too. While not really a feature, the looks are also great. At a distance it could easily be mistaken for a Hot Rod.
Ease of Use
You get out what you put in :) If you do the work up front you will be happy with the results. I love the onboard EQ for quick tone tailoring. Overall very happy.
Quality
I've had it a couple of weeks and did an outdoor gig with it and it held up just fine with the volume blasting at 10 (it goes to 12!). The build quality is as good as any other Fender import amp. Solid construction, nice Tolex job, sturdy knobs and switches. ** There have been several reports of an annoying hiss with the FR10 and FR12, but I have not noticed it on my unit.
Value
Uh, heck yeah it's worth it! Fender really hit it out of the park with these speakers and the price is very very reasonable when compared to Laney or Friedman.
Manufacturer Support
I've owned many Fender products and dealt with them a few times over the years. I've got no complaints. They shut down the official Fender forums a few years ago but have been very active on The Gear Page forums to support the Tone Master Pro release.
The Wow Factor
I think this will appeal to anyone interested in, or currently using digital modeling. It sounds great, looks like a real amp, and is very light. Pretty much everything a speaker for a modeling unit should be!
Musical Background:
Playing for almost 50 years now and still kicking in local bands :)
Musical Style:
Rock, Pop, Prog, CCM
2 of 2 people (100%) people found this review helpful. Did you?
Thanks for your opinion!