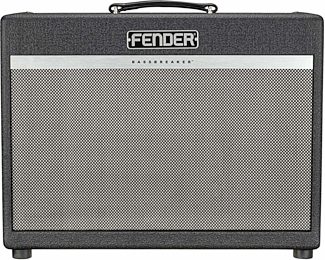 Enlarge your sound with a Fender Bassbreaker 30R combo. Its British-inspired full-range tone has enough gain and low-end bite to tackle any genre or style.
$1,099.99
---
No Credit Check

No Credit Check
Overall User Ratings
(based on 3 ratings)
Submitted February 9, 2019 by Jay C in Belton, TX
"This could be the perfect amp!&quot
Verified Customer
zZounds has verified that this reviewer made a purchase from us.
This is my first tube amp after years of owning various solid state amps. The Bassbreaker 30r is the perfect level-up from the Bassbreaker 15. It adds plenty more power (headroom) and footswitching. I needed an amp that can hang with a band/loud drummer and also maintain great tones moderate sound levels when practicing in the house.
Sound
The clear channel is bright and loud and stays that way to 10. It takes pedals well as a Fender amp should. You can set the EQ to be very responsive to your pick attack if so desired. I don't think there's a genre it wouldn't be perfect for. The overdrive channel has two levels that go from a gritty classic/bluesy rock sound to a high gain overdrive suited for hard rock and metal.
Features
I haven't lived with the amp long enough to have a most/least useful features opinion, but it isn't a complicated amp. The XLR direct out would be perfect for recording or output into a PA. The effects loop is another feature that helped me to choose this amp over the Bassbreaker 45.
Ease of Use
As I stated before, this is a simple guitar amp so it's easy to get a great sound within two minutes of plugging it in for the first time. The volume controls can take it from controlled to obnoxious
Quality
The amp feels solid and high quality. It weighs around 40 pounds, so it's easy enough to carry around to gigs without needing a dolly or casters.
Value
At $899, this seems like a steal when comparing the sound quality to other classic Fender amps.
The Wow Factor
I like the Bassbreaker/Bassman heritage. The idea of a Bassman/Marshall hybrid made this amp purchase a no-brainer for me.
Musical Background:
Guitar player (Fender SRV Strat, '94 Les Paul Studio) for 20+ years/audio engineer/music producer
Musical Style:
Rock, Metal, Blues, contemporary Christian
25 of 25 people (100%) people found this review helpful. Did you?
Thanks for your opinion!
---
Submitted June 26, 2019 by Jason Mitchell in Saint Leonard, MD
"This is my dream amp&quot
Verified Customer
zZounds has verified that this reviewer made a purchase from us.
This review has been selected by our experts as particularly helpful.
Read the details for the scoop but basically this amp is amazing.Why it gets 4.5 though is you can't control the reverb from the footswitch, and it's not a tank reverb. Those are minor. Very minor. It won't keep me from buying a second one when l'm ready.
Sound
It's what they describe it as. A middle ground between a bassman circuit and a Marshall bluesbreaker hence the name.
Features
Most useful features are definitely the footswitch, the main speaker out that mutes the cab without having to disconnect the physical speaker, and the bright switch on the clean side.The reverb is the least useful as it can't be controlled via the footswitch. That's minor though.
Ease of Use
It's a very intuitive amp.
Quality
I almost dropped in down the steps (due to clutter not weight) and honestly, I would have expected it to still work. It's a solid construction with a great detail done on the finish.
Value
At $900 you get a direct out, cab sim, 4,8,16 ohm selector, a foot switch, amp cover, and a killer amp. You can't find much better value for price. Most amps don't include the cover, and brands like Vox force you to but the switch separately.
Manufacturer Support
My footswitch actually came with a defective cable. I called Fender immediately after opening the product. They already mailed the new one and I'm just waiting for it to show up. Fender support has always been good to me.
The Wow Factor
5/5 in appeal. This amp won't be everyone's cup of tea. It's got a sound that a section of the market wants though. If you are that someone like I am, this amp will blow you away. This is the amp I've been looking my entire time of playing for. This is the amp.
Musical Background:
4.5 years. Guitar, bass, singing. I play semiprofessonally.
Musical Style:
Rock influenced, but I love to blend that to whatever songs I'm working on.
11 of 11 people (100%) people found this review helpful. Did you?
Thanks for your opinion!
---
Submitted August 8, 2019 by Stephen Tomlinson in Camden, AR
"Wow 68 Bassman tone&quot
Verified Customer
zZounds has verified that this reviewer made a purchase from us.
I have spent about 4 hours on this amp in the last 2 days since it arrived. It reminds me so much of a 68 Bassman 50 watt head I once owned. Tone is very similar to that. It has a dark side to it as did the 68 Bassman. Anyone that criticizes this amp for that quality shoulda bought something else. The difference is you can easily brighten it up. Not necessarily with the bright button it works about as good as the 68 Bassman's did, hard to tell a difference. No deep button of course. It worked well tho. This amp is exactly what Fender claims it is. Blues players loved the Bassman amps for that genre, they would love this too! I'm not a blues enthusiast just a rocker for about 55 years now this amp works for me, it loves my modded TS9, it is loud, it sounds good at low volume too. It gets great useable feedback tones if you want it to. You don't have to bleed from your ears to get it either. The gain channel is good and the boost is undeniably there big time! The cleans are Fender not Twin but still Fender. I haven't used the effects loop yet but I have tried some combinations of speakers that make a huge difference, it is set up for every combination of speakers possible with almost endless possibilities. Ohm switching makes that possible. The eq works great on both channels. The simulated di out is not good, don't care either not what I bought it for. It feels solid fit and finish is Fender, weight is wonderful easy to tote but not light as a feather. Time will tell about the ruggedness of it. I'm satisfied that my $900 will be well spent, thanks to zZounds' play as you pay! This makes 6 items I've purchased from them all great deals on quality merchandise. This is my 11th Fender product and I still don't know how to rate customer service never used them! Thanks Fender and zZounds great duo you guys are!
Musical Background:
55 years of playing, recording, gigging and studio
Musical Style:
Rock, country rock, blues rock
5 of 5 people (100%) people found this review helpful. Did you?
Thanks for your opinion!