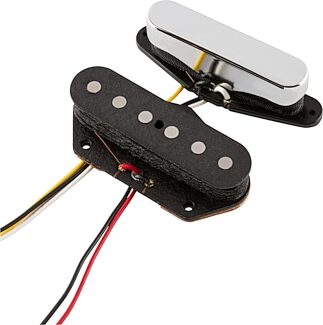 Express yourself while getting pure Tele tone. Using a mixture of alnico 5 and alnico 4 magnets, these pickups are extremely dynamic and produce clear tone.
Overall User Ratings
(based on 2 ratings)
Submitted May 7, 2021 by Mick L
"PLEASE READ FOR CORRECT OUTPUT SPECS&quot
I recently purchased a set of these pickups. When I put them on my meter, the rear pickup measured 7.0. The front measured 6.16. I was concerned as everywhere I looked the front should be in the 7.3 range. So, I contacted Fender customer support.I received a email today verifying that my pickup is correct and that the information on there website is INCORRECT. This is the email that I got from Fender:________________Hello Mick, Your pickups are actually correct. The neck pickup should be between 5.7k and 6.3k, and bridge pickup is between: 7.6k - 8.2k. So they are within tolerance. The spec information on our site is incorrect and will notify our Fender web team to make the correction. Apologies for the confusion. ________________The email was sent to me by Mr Carlos Hernandez, Gear advisor, Fender Musical Instruments CorporationThe fine folks at Fender have always been a great help to me over the years and have once again solved a puzzle for me.
3 of 3 people (100%) people found this review helpful. Did you?
Thanks for your opinion!
---
Submitted April 2, 2021 by Mark Garner in Metairie, LA
"No Yosemite Sam jokes here&quot
Verified Customer
zZounds has verified that this reviewer made a purchase from us.
I bought this set to replace the stock (and quite bland) Vintage Noiseless pickups in a Fender Deluxe Nashville Tele and I must say I greatly prefer these.The Alnico IV bridge pickup has a bit less BITE than your typical Alnico V pickups but still has that classic Tele twang.The neck pickup is what really makes this set stand out. Many Tele neck pickups are rather weak affairs that don't really stand out as anything other than a strictly rhythm pickup but this one has some real strength and can definitely be used for soloing.On clean settings you can achieve all those classic Tele sounds but run it through a fuzz and a good tube amp (in this case an EHX Big Muff Ram's Head reissue and a Vox AC4C1-12 w/Celestion Greenback) and your headed straight for some late Yardbirds wailing.My other Nashville Tele - doesn't everyone have two? - has a collection of vintage style Seymours so I wanted something a little more modern sounding here but which was also affordable.For the price you would be hard pressed to find a better choice.Note that my 5 Star rating is based around the combination of good sound AND great price.(This set comes stock in the Fender American Performer Tele Series and I opted for this set because most of the reviews I read and demo videos I'd seen were highly complimentary of the pickups.)
Musical Background:
Former semi-pro now a stay-at-home jammer.
Musical Style:
Rock, rock and rock.Primarily late 60's; Beatles, Yardbirds, Pink Floyd, early Zep and Jimi.
1 of 1 people (100%) people found this review helpful. Did you?
Thanks for your opinion!