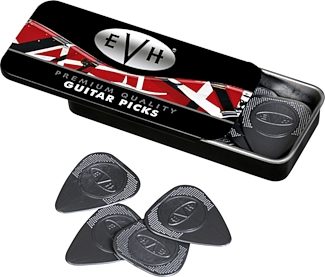 Shred the night away with this 12-pack of EVH gripped nylon picks -- stored in a stylish tin that echoes Eddie's legendary Frankenstrat.
Overall User Ratings
(based on 3 ratings)
Submitted July 19, 2019 by Patrick McHatton in Lookout, CA
"Van Halen guitar picks are awesome&quot
I tried out these guitar picks along with several larger sized picks (as I used to prefer the heavy picks). I began using this pick and trying the others to see which one I liked best. I don't like picks that have a lot of bend in them, but these ones did. I played till I only played with this guitar pick. It is now all I use. The pick has indentions to hold the grip to your fingers. This pick will not move unless you move it. It is not slippery rather sticking to your fingers. I still think I am going to tear one in half as abusive as I can be on the guitar, but the pick takes it. This pick is by far the best guitar pick I have ever used. It sticks to your fingers so you don't have to worry about it sliding out of your fingers. I highly recommend this pick - especially to those who use thick picks. Play with it for a day and you forget all about the pick while you are playing. It performs. Sorry those half stars were a screw up, I gave this all the stars possible.
Musical Background:
Been playing for 40 years
Musical Style:
Heavy metal, rock, a little jazz.
4 of 4 people (100%) people found this review helpful. Did you?
Thanks for your opinion!
---
Submitted January 7, 2022 by Mark Garner in Covington, LA
"A Superior Nylon Pick.&quot
Verified Customer
zZounds has verified that this reviewer made a purchase from us.
I've been using this model of picks for a few years now and I really like them.I had been using the Dunlop .73mm but wanted something a tiny bit thinner. (I tried the Herco Flex 50 but they were too thin.)I bought a pack of these and...EUREKA! The perfect pick for me. I loved Eddie so I really dig playing a pick with 'EVH' on it but the pick could say 'Donny Osmond' on it and I'd still recommend it. (I gave this item a blanket five star rating even though most of the rating categories don't really apply to guitar picks.)
Musical Background:
Former semi-pro now stay-at-home sofa jammer.
Musical Style:
Rock, rock and rock. Beatles, Yardbirds, Jimi, early Floyd and Zep.
1 of 1 people (100%) people found this review helpful. Did you?
Thanks for your opinion!
---
Submitted November 26, 2021 by Patrick M in Lookout, CA
"Great guitar picks&quot
I used to have guitar picks slipping and sliding around while playing, and it was a real hassle. I bought random guitar picks to see if I could find better. When I purchased these, I instantly forgot about the slipping of the guitar pick. The grooves keep the pick where you want it. I am highly impressed with this product - and they were endorsed by the late EVH - you can't go wrong with this pick. I even gave some to other guitarists I know - they all loved the grip the pick gives you. I did not need to contact manufacturer.
Musical Background:
I have been playing for 38 years (guitar)
Musical Style:
I play metal, blues, jazz.
1 of 1 people (100%) people found this review helpful. Did you?
Thanks for your opinion!