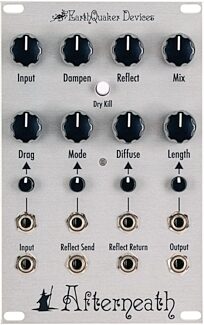 Bring the shimmery sounds of the Afterneath guitar reverb pedal to your modular synth setup with this unique Eurorack module from EarthQuaker Devices.
Overall User Ratings
(based on 2 ratings)
Submitted June 15, 2020 by Michael Black Feather in Downs, KS
"Not your average reverb&quot
Verified Customer
zZounds has verified that this reviewer made a purchase from us.
The Afterneath reverb by Earthquaker Devices is well known amongst guitarists for its lush reverberation and unique design. It throws out an explosion of short delays with controls to: separate and smooth out delay repeats for a huge wash of reverb (Drag & Diffuse), adjust tone (Dampen), Length, and reverb regeneration (Reflect). But this is the eurorack version and we get extra control! The Drag input can take v/oct. signals allowing for direct control over the pitch of the reverberation. Turning the Reflect and Length up can put the Afterneath into self-oscillation allowing it to be used as an oscillator. Which is mostly successful. A fun little extra as opposed to something I would use regularly. The Mode knob has 9 different v/oct., quantization, and scale settings so you can have alot of fun playing with the Drag. I've used a manual gate button to advance an analog step sequencer which then changed the reverb pitch. Great for tinkering with ambiance! Processing the Reflect feedback (reverb regeneration) is also a neat experience but it highly depends on the settings and the external processor. Overall, it's a highly playable and unique reverb. Recommended for people that want to experiment with their reverbs or people that like enormous ambient space verbs. Not necessarily for people that want super short, clean, room reverbs. I would have liked a highpass filter over everything (not just Reflect/regeneration processing) to easily create shimmery verbs and CV control over Mix. Oh, and a fancy Earthquaker Wizard graphic over the entire panel like the pedal version! But oh well. It's already awesome!
Musical Background:
Producing electronic music since 2003
Musical Style:
Electronica, Dance, EBM, Trip Hop, Synth Pop, DnB, Ambient, Techno, Experimental
4 of 4 people (100%) people found this review helpful. Did you?
Thanks for your opinion!
---
Submitted October 21, 2020 by John Q
"Other worldly&quot
Verified Customer
zZounds has verified that this reviewer made a purchase from us.
This reverb is by far not your typical standard reverb unit. It creates odd delayed sounds and using other LFO to control some of the functions really makes it extremely unique to me. I'm really glad it has a complete wet button, this allows for some real ambient noise.
Sound
The over all sound is pretty good, I think it could be a little less expensive. But overall It's easy to use and sounds pretty good. Don't expect to get Black Hole reverb sounds.
Ease of Use
It's very easy to get sounds out of it once patched in correctly. I mainly run other odd things into and it creates odd reverb sounds.
Quality
It's pretty well made, I feel the knobs and potentiometers are very smooth and well built.
Value
It's worth the it. ZZounds really need more eurorack modules! Please add more.
Manufacturer Support
I haven't had any issue with the unit so far so I have not had to deal with the manufacture. They have a cool Instagram page @earthquakerdev I highly recommend you follow them and check them out.
The Wow Factor
Overall I do love the logo of the wizard on this unit. The Led can be a bit bright at times but I like the multi color led lights. It would cool if there was a knob to control the brightness.
Musical Background:
Mad genius
Musical Style:
Weird, experimental music with a twist of other things.
1 of 1 people (100%) people found this review helpful. Did you?
Thanks for your opinion!