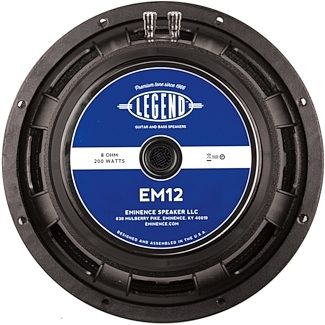 Ever hear the story of the guy with the 200-watt speakers? Neither did he! And he didn't regret it: these speakers back their power up with a focused voice.
Overall User Ratings
(based on 1 ratings)
Submitted December 27, 2019 by Dennis S in Flagstaff, AZ
"Ridiculous !&quot
Verified Customer
zZounds has verified that this reviewer made a purchase from us.
I built two 2x12 cabinet's for the spec's of these speaker's, thanks to zZounds financing I was finally able to get them " shameless plug plug plug " I had Celestion 70/80's in the cabinet's and they were decent but the Eminence EM12 blows away every speaker I have ever played , crystal clear definition regardless of the gain and volume I throw at it , I'm particularly impressed with the bass definition , No Mud ! The sound of my rig comes through with no speaker distortion , the cleans at high volume are bell like. I've played EVM'S 12L & BLS and love them but cannot justify the price , the Eminence EM12 is on par with the EVM at a better price point for me. I play Les Paul's with various high output pickups , my main amp is a Randall RG1003 boosted with a Boss Metal Zone , I also use a Marshall DSL-100 boosted with Boss DS-1 for milder and clean tones , I use the same cabinet's that I built now loaded with the EM12's , without a doubt the most satisfying speaker purchase I've ever made.
Sound
The best sounding speaker's I've ever purchased , extremely clear with no speaker breakup
Features
These are Tanks ! I like the no solder connections made for a quick plug and play , they are obviously overbuilt, I cannot say enough about the definition particularly the bass.
Ease of Use
Crystal clear even response.
Quality
These are overbuilt tanks ! They'll probably outlast me.
Value
As I noted , I love the EVM12L & BLS but the price had me looking at other options , the Eminence EM12 is about 1/2 the price and for my purposes it does what I want.
Manufacturer Support
I talked to an Eminence rep several time's before purchasing , he was very helpful and patient with all my questions.
The Wow Factor
I am blown away by the EM12 , the sound is on the Mark with other's costing almost twice as much , the construction is if obvious quality, It's A Tank !
Musical Background:
I've been playing 35+yrs , build repair Guitars & Cabinet's , I have a degree in music & guitar , record play at home.
Musical Style:
I play just about everything but my main interest is Heavy Metal
4 of 4 people (100%) people found this review helpful. Did you?
Thanks for your opinion!