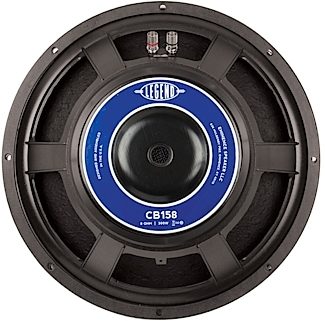 Designed to work perfectly with bass guitars, this speaker has been carefully tuned and crafted by hand for peak performance.
$194.99
---
No Credit Check

No Credit Check
Overall User Ratings
(based on 12 ratings)
Submitted July 24, 2007 by a customer from yahoo.com
"Eminence Legend bass speakers live up to the name! LEGENDS!!&quot
I take good care of my gear and expect a long relationship! I'd replace with identical item! Comparable to my old 400 watt EV folded horn bins! No kidding!!
Sound
Smooth yet powerful addition to my Biamped bass rig. Handles the bass department very well and is pretty tight with the low B string. These are not harsh sounding in any way and don't color the tone much in my opinion. I am using 2-10" Legend speakers with a bullet for the highs. Head is a Gallien Krueger 800 RB in biamped mode with crossover set at @ 1 o'clock. Master volumes wide open and gain at @ 11 o'clock.
Ease of Use
Mounted inside a 40 yr. old 3/4" plywood cabinet, side vented....OOOMPH right out of the box! I'm refinishing a second identical cabinet and ordering another Eminence Legend!!
Value
This speaker (and other Eminence drivers) are worth DOUBLE the price paid...EASILY!
Manufacturer Support
2 year unconditional warranty! WOW!! no need for warranty work to date!
The Wow Factor
Huge value for the money! Musicians need all the financial breaks we can get!
Musical Background:
Active bassist for 27++ yrs.
Musical Style:
All styles...primarily Southern Rock and Blues
36 of 40 people (90%) people found this review helpful. Did you?
Thanks for your opinion!
---
Submitted August 23, 2012 by Charlie M
"The Eminence CB-15 8 ohm speaker&quot
Verified Customer
zZounds has verified that this reviewer made a purchase from us.
This speaker is for the serious electric bass guitarist. However, to get the most out of this speaker, it must be placed in a vented enclosure. I contacted Eminence engineering dept. (tech. No. given on their web site) and they did recommend two 4" dia. vent holes (with a 2" vent tube in each) adjacent to the 15" sub-woofer. One vent hole was on top right and the other was on the bottom left (specified) - each about 2" away from the main 15" woofer hole. This procedure gave this speaker a lot of bass projection into a large room. The enclosure was 24" X 25" X 16" depth on the cabinet I used. It ended up being tuned for about 47 Hz - Very respectable for a 5 string electric. bass. Great sound !! zZounds makes speaker purchases (for the home builder) a breeze - Great company !!
Musical Background:
20 years bassist
Musical Style:
rock & roll - blues - church music.
7 of 8 people (88%) people found this review helpful. Did you?
Thanks for your opinion!