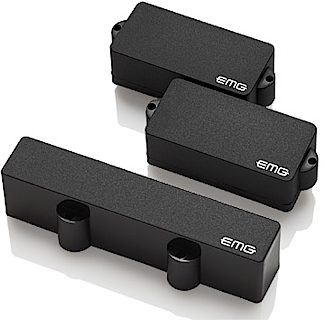 Want to upgrade your bass pickups? Keep your tonal options open with an EMG-LJ pickup for crisp mids and highs, plus an EMG-P for plenty of low-end power.
$179.00
---
No Credit Check

No Credit Check
Overall User Ratings
(based on 7 ratings)
Submitted May 27, 2016 by Lou Sanchez in Carmel, IN
"what a long road....I traveled to make this happen.&quot
Verified Customer
zZounds has verified that this reviewer made a purchase from us.
EMGs are amazing. The solderless install the first time is a nightmare. The directions are not super clear, they appear to be but many important points are left out as in you do not really have to solder if you can take the tips off of the leads to route through the cavity on your bass.etc. There honestly should be a separate card that shows how to do this. I attempted to solder (much experience in soldering) my connections but as my instrument had a totally shielded cavity I could not complete the install. It drove me crazy. There was not a mention of do not place within or on top of copper shielding... All in all the pickups sound fantastic, I installed 18 volt system but I had to re-order a separate pj wiring kit, then a ABC pan, one tone control was bad, and I ordered a separate tele switch just incase the ABC turned out to be crap. The p bass polarity was off between my e a and dg pickup so the abc pot in the middle sounded phasey and hollow... I am glad I have the perseverance I have and the experience I think most folks would of just thrown the whole deal in the garbage. It cost me an extra 80 bucks on top of the 199 but what are you gonna do...a simple addition to the instructions sheets would help immensely. Support at EMG was great I will say, and they fed ex me a new tone control to replace the dud. Glad its over but two cards should be added. The first stating "if you have shielding......" and to insure solderless connection here is how you remove plugs from lead..." No info on youtube about that.. Also connecting the pickup set outside the guitar and plugging into a small combo amp first before routing thru the bass is highly recommended. Even with doing this I still mis connected the polarity on the pbass pickup as mentioned above. My one of a kind bass sounds as good as any active bass I have ever owned.....the red pickup color attracts comments too...how about some avocado or coppertone? just like the 70's....
Musical Background:
playing experience 40 years 76 - today....
Musical Style:
rock, pop, country,
5 of 6 people (83%) people found this review helpful. Did you?
Thanks for your opinion!
---
Submitted March 11, 2008 by a customer from gmail.com
"New Life for and Old Bass&quot
Sound
I put these pickups in my crappy Peavey passive Millennium P-Bass. I carved out a spot for the LJ pickup as well for the battery, and a hole for the extra pentometer (volume knob). The result was well worth it! These pickups made my bass sound like a good bass. I have since bought another bass but I am keeping my Peavey because of its unique quality, and sound.
Quality
Beautiful! With the active bass comes the possibility of a dead battery. This has yet to happen but I always keep a spare 9V in my case.
Value
This is a great buy. To those intermedeate to advanced players looking to buy a bass. One idea is to buy an old/ cheaper bass and put a set of good pickups in it, like these.
Musical Background:
Physicist/ Musician / Co-Director
Musical Style:
Jazz, Funk
26 of 29 people (90%) people found this review helpful. Did you?
Thanks for your opinion!