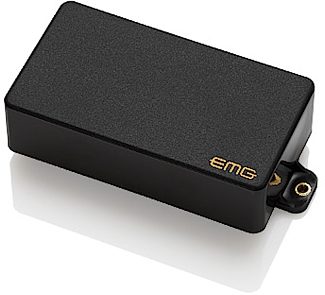 Get 2 pickups in one with this EMG humbucker pickup. The EMG-89 has a single and dual coil pickup inside of it.
$119.00
---
No Credit Check

No Credit Check
Overall User Ratings
(based on 10 ratings)
Submitted October 20, 2011 by a customer from sbcglobal.net
"Perfect SOUND for a neck pickup! Better than a 60!&quot
Verified Customer
zZounds has verified that this reviewer made a purchase from us.
Sound
I have these in my Schecter Hellraiser Sunsets and absolutely LOVE THEM! I have played the 81/85 and now the 81/60 combos and believe the 81/89 are simply THE BEST ALL AROUND for sound! The coil tap on the 89 has a better treble response along with CLARITY which is what makes my decision! I sometimes ask WHY but guess everyone has an opinion of perfect sound. I know for my style of playing/SHREDDING the 81TW/89 is PERFECT!
Quality
Batteries LAST a LONG TIME!
Musical Background:
Hobbyist
Musical Style:
Classic Rock, Blues and Country and Metal
2 of 2 people (100%) people found this review helpful. Did you?
Thanks for your opinion!
---
Submitted August 15, 2010 by a customer from yahoo.com
"EMG 89 not the best but one of the better&quot
Even through it not the best pickup in the world. I believe the 89 still one of the best pickups I had tried from EMG.
Sound
The sound is pretty good through I would prefer the 85 than the 89. the sound is pretty 85ish but the aggressive and the power isn't in the 89. the coil-tapping does make up for the aggressive so it good. I like the sound when I play clean since it rich in clarity and has a very rich and warm sound to it
Features
I like the coil-tapping and I believe that it is the maybe the most valueable feature in the guitar.
Ease of Use
The pickup can be from the cleanest jazz in the jc-120 to the heaviest metal in the Mesa Boogie Triple Recificer
Quality
It has very good quality but it is not the best pickup i had used. I would rather have a Seymour Duncans passive pickup but the pickup is fine for me right now.
Value
It is pretty expensive at $119 and I would like the pickup to be aleast 80. However it has alot of value since you can coil-tap and its versatility
Manufacturer Support
I have not call EMG so i have no clue.
Musical Background:
Playing guitar for 3 years
Musical Style:
Thrash Metal, Death Metal, Classical Rock, Jazz, Blues, Christian. etc
1 of 7 people (14%) people found this review helpful. Did you?
Thanks for your opinion!