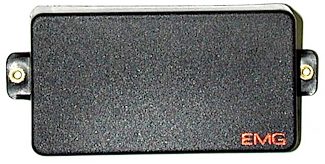 This versatile pickup is perfect for use with everything from blues to hard rock and metal. It can be paired with any other EMG humbucker pickup.
Overall User Ratings
(based on 9 ratings)
Submitted February 5, 2004 by a customer from yahoo.com
EMG 85 Active Humbucker Customer Review
greatest active pickup produced.
Sound
it gets great hard rock/metal tone and also works for the blues. overdrives my amp when playing clean. loads of sustain.
Quality
nothing i would change about this pickup.
Value
if you want your guitar to scream, get this pickup.
Manufacturer Support
never dealt with them
The Wow Factor
i wouldnt be caught dead playing with distortion without the 85.
Musical Style:
Metal, Jazz, and Metal/Jazz Fusion
3 of 4 people (75%) people found this review helpful. Did you?
Thanks for your opinion!
---
Submitted May 11, 2008 by a customer from yahoo.com
EMG 85 Active Humbucker Customer Review
Awesome sound in a tiny box
Sound
Sound quality is great. I saw a review that said some1 used this for the bridge pickup. I wouldn't think that would be a great idea as this is something ideal for the neck. I have 81 on my bridge and 85 on my neck and its a great ass setup. Lots of people have that same setup. If your goign to by an 85 or an 81 get them together. Zack wyld and one of the guys from slayer and kirt hammet from metallica all use that setup. 81 on bridge and 85 on neck. James hetfield from metallica uses 81 on the bridge and a 60 on the neck. What they all have in common is the use 81's on the bridge. Dont put an 85 on the bridge thats a dumb idea. Some people like passive pickups. I cant stand those. If your worryd about to much extra noise from actives grab a boss noisegate. Yes the active pickups take a battery. Only 1 9v which gives u like 4,000 hours. If your putting active pickups into your guitar I reccomend u take it to a store for them to do it since they will have to put a battery commparetment in it for you. Or you can just buy a new guitar with the active setup. I have the Esp ltdmh400nt which comes with 81 85's. Its a good guitar. Esp and LTd's are great for metal! Mine was 680 i got the best one in its class. Esp's are great as well but very very expensive. If your gonna by an ltd either get the best one in the standard series or get a deluxe. If u want to get the best sound plug your guitar into a good amp, the amp makes a huge diff on how the pickups sound. If your going to just buy these pickups and put them on your guitar dont put them on a crappy guitar cause then the pickups wont sound as good. Also dont mix passive with active. U can just get 1 active if u want and use that for a bridge and neck if you want to save money but ive never tried that.
Ease of Use
Very easy to get harmonics out of these.
Manufacturer Support
Havent used it
Musical Background:
Active Musician
2 of 11 people (18%) people found this review helpful. Did you?
Thanks for your opinion!
---
Submitted April 6, 2004
"Killer Modern Design and Product that rocks..&quot
Sound
This pickup rocks.. I've been playing for over 25 years and if you have the chops, a good guitar and use this pickup, it will NOT sound sterile.. It just reports what it hears from your guitar.. So, if you are using a cheap guitar, you'll get a cheap sound from this pickup.. To be honest, some don't like it because they are so used to getting colored sounds from Passives.. It rocks.. It's made of modern matarials and it helps prevent shock, etc..etc. Why use passives? I don't..
Features
The nice thing about EMG's is that you can experiment.. Even the US made Passives from EMG have the quick disconnect system.. Buy an extra or two pickups from EMG, and just plug them in.. Of course, you can't or shouldn't mix actives with passives..
Value
I bought mine used, and then bought another new.. 90 bucks, which is steep, but they are worth it..
3 of 5 people (60%) people found this review helpful. Did you?
Thanks for your opinion!