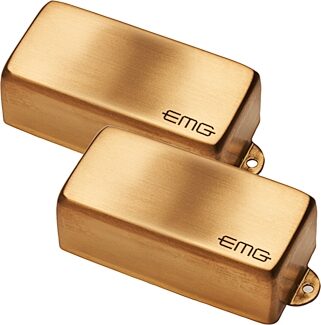 Solidify your funky bass tone! The EMG Les Claypool Pachyderm gold pickup set was hatched from the Primus frontman's brain to deliver warm, rich bass tone.
$149.00
---
No Credit Check

No Credit Check
Overall User Ratings
(based on 1 ratings)
Submitted November 14, 2023 by a customer from yahoo.com
"P-Bass PLUS&quot
So I found myself acquiring a Squire 40th Anniversary Gold Series P-Bass and immediately thought of how neat the aesthetics would be with this pickup. The pickup that came with the bass was great as it was, so this was purely a visual thing. I ordered it blindly not realizing it was an active pickup. So, after Googling a local luthier in Portland I had a battery box mounted in the back and the pickup installed along with some Earnie Ball Cobalt Flatwound strings and HOLY COW! First, what got me was the sharp, bright harmonics. Yes, bright harmonics from flatwound strings on a P-Bass. Seriously, depending on how you use your right hand, this pickup (and string combination) gives you the range of P-Bass to the grind and honk of a Jazz Bass, to the synthy-plainness of an Ibanez or Dean, enough bass to pull of an EB-3 impersonation… this pickup broadened the palate of tonal possibilities in a way I didn't anticipate.Now to find a P-Bass body to put the old pickup in… it was great to start with….
Did you find this review helpful?
Thanks for your opinion!