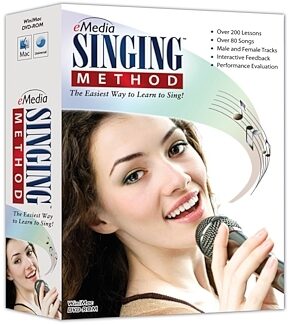 Improve your vocal technique! This software leads you through 230+ fun, engaging step-by-step lessons with video, animations, and interactive feedback.
Overall User Ratings
(based on 1 ratings)
Submitted April 7, 2022 by a customer from gmail.com
"Hmmmmm...&quot
Verified Customer
zZounds has verified that this reviewer made a purchase from us.
I wish that I could give this product better "star scores." I actually have nothing bad to say about it. It's just that I haven't completed enough to give it 4 or 5 stars. Plus, the audio is NOT great quality. Not bad. Just Meh. The software comes included with an audio recorder so that people can keep their practice sessions and hear their improvement over time.I'm not sure what I expected when I purchased this product. I certainly haven't had it long enough to have become a Rock God or anything like that. As the woke crowd likes to say, this has subverted my expectations.I understand the business decisions to use folk songs (NO ROYALTIES, or LICENSING FEES), and the skill required to sing opera makes it an easy choice with which to challenge wannabe singers. But hearing folk songs sung in opera is kind of surreal.As for the lessons themselves, I haven't even started practicing the techniques. I have been reading the course material through before getting started on the actual program. Each "lesson" is a single exercise (232 in total). Mostly, they consist of a few words, and a single exercise to be repeated over and over again just like any other lesson for any instrument ever.Some exercises early on are all about breathing properly and don't require singing actual notes to progress. Most of the lessons have some sort of singing be it short 16 bar phrases, or longer song sections. As for how accurately it scores your voice, I can vouch for its sensitivity as the few set up exercises certainly were somewhat difficult to achieve the perfect note.I suspect that for a "newbie" that takes this program seriously and MASTERS each exercise before moving on to the next, there are several hundred to a thousand hour's worth of "lessons" here. Maybe more.It starts with a little (very little) music theory, and then goes through posture and breathing. Then, each subsequent chapter adds a new vocal technique, and the necessary music theory is included as needed. It seems like it shouldn't be overwhelming for somebody unfamiliar with music theory, but I didn't find anything new to somebody that plays an instrument. (Even as badly as I do)Will I see this course through to the end? I don't know. I'm not the most motivated person in the world. But, if I can learn to breathe easier and articulate my singing better, I will consider this purchase an unmitigated success.If I make it all the way through, I will thank both zZounds and eMedia when I accept my Grammy for the best Folk Song rendered in Aria!!!
Did you find this review helpful?
Thanks for your opinion!