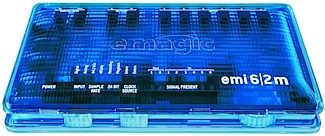 Formerly called the EMI 6|2 m. Cross-platform USB interface. Lightweight and compact.
Overall User Ratings
(based on 31 ratings)
Submitted December 21, 2004 by a customer from eijkhout.net
"I'm popping my top!&quot
I'm shopping for something else. Even intermittent pops are pops and they are driving me crazy. This seems to be largely a problem with Logic on the Mac, but I've heard other hosts and platforms with the same problem.
Sound
It would sound fine if I could get rid of crackles and pops. Searching the Logic forums at Sonikmatter tells me that many people have problems. I've tried a million suggestions, and ultimately can't get rid of popping noises. Set the buffer size minimal, and you're almost rid of them, but then my G5 can't keep up with large polyphony.
Features
Man! Midi, extra USB port, ins/outs, headphone, this was the unit that had it all when I bought it. Right now the lack of mic input is a bit of a limitation.
Quality
It's a bit light weight, and the headphone output feels like it'll ultimately go, but in general it's fine.
Value
At the time it was worth the money. Right now there are plenty of alternatives.
Manufacturer Support
Let me get back to you on that.
The Wow Factor
It looks cool, has many features. But "I want it to work".
Musical Background:
Hobbyist
Musical Style:
All over the map
3 of 3 people (100%) people found this review helpful. Did you?
Thanks for your opinion!