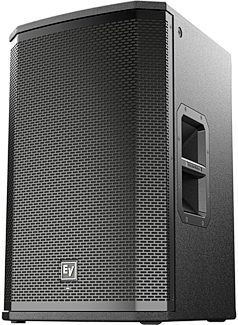 Bring 2000 watts to the gig with these active PA speakers. They're loaded with smart DSP for crossover, limiter, delay and EQ -- accessible on the rear LCD.
Overall User Ratings
(based on 3 ratings)
Submitted September 2, 2016 by Adam T in BOTHELL, WA
"Big sound, small package&quot
Verified Customer
zZounds has verified that this reviewer made a purchase from us.
This review has been selected by our experts as particularly helpful.
I had an application for a set of small PA speakers. I looked over various models (from EV and JBL) and finally bought a pair of ETX-12Ps. They're a robust little package, tipping the scales at just over 50 lbs. I used these outdoors at an athletic event, on tripods. They cranked dance and hip-hop music, and announcements, all day long, covering a crowd of 100 or so people spread out across some distance in the parking lot of a gym. (I had a pair of the larger EV Sx500 speakers indoors where the athletics were happening -- big bass was called for in there.)The ETX-12Ps can get loud -- REALLY, obscenely loud. And when they do, they sound exactly the same as they do at low volumes. There is no harshness on top, no boom or mud in the bass. Voice announcements over top of bass-thumping hip-hop sounded clean and clear, and there was no intermodulation distortion. These speakers produce respectable bass for their size, but if full-bass music playback is required, you'll want subs. These speakers required less EQ adjustment than the passive Sx500s did, though I did have to scoop out quite a bit on either side of 800 Hz (the speakers were in "Live" or flat EQ mode)... They were a bit "honky" sounding. That EQ scoop (-6 dB at the max, I think) cleaned them right up, though. I also put a slight rise in the bass, but above 2k or so, no EQ was needed.My recommendation is 9/10... For most people shopping this category of speaker, I think the price would be an issue. Some people asked me what they cost, and seemed dismayed when I told them.
Sound
Note: These sound notes are from one event, where these speakers were used outdoors on tripods.In "Live" mode (flattest response), I found that I had to EQ out a bit of honk centered around 800Hz-1kHz. Not a big deal, and maybe I should have used the "Music" mode (a more "smiley-face" response)... But I have a Midas M32R console with in-built 31-band graphics (Klark-Teknik emulation), so why not have maximum flexibility?I gave a small boost to the bass, down to about 50 Hz. Above 2 kHz or so, no EQ was required. With announcements made over heavy hip-hop bass, there was no intermodulation distortion. For that matter, there was no distortion at all. And these speakers sound just as clean when they're shredding your ear drums as when they're whispering.I deducted a half star because these speakers have quite a bit of self noise. There's a bit of hiss that's easily audible when they're idle. You won't hear it with people talking in a room, and you especially won't hear it once you crank them up! But it proved a little distracting when I was using them as surround-sound speakers (because I could!!).
Features
The onboard FIR and equalization make it so that only minimal EQ is required. The onboard DSP is easy to use.I deducted a half star: I really wish they'd used Neutrik PowerCon (locking connectors) instead of IEC type power input. A speaker at this echelon should have ditched the computer plug.
Ease of Use
Super-easy to use. 6 stars out of 5! The DSP is intuitive, the speakers are a manageable weight, and if you use ProCo Siamese Twin cables (or similar), hookup and cable management is a breeze.
Quality
I haven't used these long enough to determine longevity -- just bought 'em -- but I'm pleased so far. After cranking music all day outdoors, the amplifier plate was barely warm. They're loud, clean, clear, heavy, and have nice touches like rubber skids for the monitor cut side of the cabinet.
Value
$1200 seems like a bit much to pay for this speaker. I bought a "Warehouse Resealed" set that was a great value -- only way these fit into my budget! On the other hand, this is a truly pro-level speaker, at a pro-level speaker price. 4/5 for value.
Manufacturer Support
I've not had to interact with EV regarding this product, yet.
The Wow Factor
This is a handsome speaker with clean lines. They produce sound quality and quantity that defies their size! The "EV Coat" finish is rugged (reminds me of spray-in truck bed liner material), the rubberized handles have a great feel to them, and the dense weight speaks of a quality product.
Musical Background:
Sound engineer hobbyist for about 15 years. I play drums, too.
11 of 11 people (100%) people found this review helpful. Did you?
Thanks for your opinion!
---
Submitted September 17, 2014 by Tom K in Greenwich, NY
"Awesome speakers!!!!!&quot
Verified Customer
zZounds has verified that this reviewer made a purchase from us.
I own the zlx series and bought the etx 12p and all I can say is wow!!! The headroom you get with these 12 inch speakers is incredible and the sound will blow you away!!! I use the 2 etx 12p with a pair of zlx 15p and pair of elx 118p subs for an out door event and you could just imagine the sound of it all...incredible just incredible
10 of 10 people (100%) people found this review helpful. Did you?
Thanks for your opinion!
---
Submitted March 21, 2022 by a customer from comcast.net
"Paid for new speakers and received a set of used damaged speakers with mismatched power cords&quot
Verified Customer
zZounds has verified that this reviewer made a purchase from us.
I purchased a set of new EV ETX 12p speakers but what I received was a set of used damaged speakers. This will be my last purchase from zZounds.
Did you find this review helpful?
Thanks for your opinion!