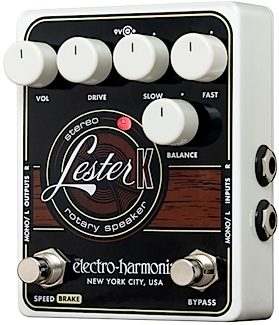 The Lester K reacts just like a Leslie, with a speaker balance knob, tube overdrive, and the classic acceleration sound when switched between fast and slow.
Overall User Ratings
(based on 2 ratings)
Submitted May 9, 2016 by Raymond S in Satan's Armpit, KY
"A do-it-all modulation masterpiece for the gutarist!&quot
Verified Customer
zZounds has verified that this reviewer made a purchase from us.
This review has been selected by our experts as particularly helpful.
Overall, I'm very impressed with the sound, tweakability, looks and performance of the EHX Lester K.
Sound
Tonally, this pedal sounds fabulous. I was just in the studio a little over a month ago and had an opportunity to play through a real deal vintage Leslie cab -- the room-filling, swirling magic of that cab was unmistakable. This pedal does a remarkable job of capturing the Leslie vibe, controls and sound.
Features
The reason I titled this review "A do-it-all" mod pedal is because prior to picking up a Lester K, I've never been big on modulation effects. Sure, they have their place in music but too much modulation gets old to me very quickly. Because the Lester K has slow and fast settings that are footswitchable, you can quickly go from light flange/phaser type tones to full on Leslie swirl without having to tweak any knobs...which is huge for a gigging guitarist. I ain't got time to be all bent over, blowing my back out onstage to tweak a knob just to alter my modulation!
Ease of Use
Plugged it in, and by the time them tubes were glowin' I was making some really cool sounds with the Lester K. I've spent about an hour a day with it over the past week and have found a use for even the most extreme settings on the pedal.
Quality
It's an EHX pedal...so I'm hoping it holds up. To be completely honest, every EHX pedal that I've ever owned has spent some time being repaired at some point. I ain't kind to 'em, however, but I do expect reasonable durability and some of their products occasionally fall short.
Value
I got a price-match from zZounds on this that put the pedal at a price that I felt was fair, and it has definitely knocked my socks off. It's the best Leslie pedal out there at a workingman's price right now for the guitarist that wants the Leslie sound but doesn't need the added compressor built into the EHX Lester G.
Manufacturer Support
The folks at EHX are super cool, and they're quick to answer any questions you might have. Bill Ruppert (the guy who does EHX's killer YouTube videos) is quick to respond to questions on their YouTube channel.
The Wow Factor
Had to have a Leslie pedal after using one in the studio, there's something about the vibe and mojo of a guitar through a Leslie cab that is undeniably cool and classic.
Musical Background:
I've been playing music since I was 6 years old...24 years of playing. Currently professionally gigging.
Musical Style:
Blues, Jazz, Rock, Americana, Indie, Ambient, the works.
8 of 8 people (100%) people found this review helpful. Did you?
Thanks for your opinion!
---
Submitted April 11, 2020 by Anthony D in Staten Island, NY
"Lester K brings it home&quot
Verified Customer
zZounds has verified that this reviewer made a purchase from us.
I recently switched my live set up from MainStage to a Yamaha MODX6. While the MODX is a beast sound wise it was lacking in the B3 department. A lot of my gig is on a Hammond sound so this killed me. I decided to try the Lester K to see if I could get there.... Problem solved! Adds just enough grit and swell to get me there. Kudos to EHX for a great and inexpensive solution.
Musical Background:
Professional Musician
Musical Style:
All styles...
Did you find this review helpful?
Thanks for your opinion!