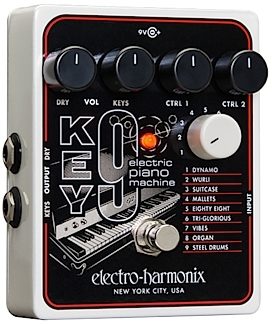 Transform your guitar tone into a number of vintage electric pianos with the Key 9. Choose from 9 different presets and dial in your favorite EP sound.
Overall User Ratings
(based on 2 ratings)
Submitted April 30, 2016 by Raymond S in Louisville, KY
"Really fun pedal, but has its limits.&quot
Verified Customer
zZounds has verified that this reviewer made a purchase from us.
The EHX Key9 is unquestionably a very unique and fun piece of equipment, but it falls short of being fully practical in some respects. In terms of sound quality, it sounds excellent recorded direct into your DAW -- very clean and close to the electric pianos it's designed to emulate. However, when used in a standard guitar rig it lacks definition, and can be quite muddy depending on the preset selected. It's easy to dial in enough treble on your amplifier to remedy the lack of definition in the pedal, but when switching the pedal off you'll have to reset your amp's treble control...otherwise your guitar is likely gonna sound shrill. The Key9 also forces you to adapt your playing style to fit the pedal in order to get the best sounds out of it. I think this is a plus as it will force you to think outside of the box and create some unique riffs and ideas. However, if you're a speed player or use a lot of legato runs, you will experience some tracking issues with the Key 9. In addition, the particular unit I have made some really strange noises, even when bypassed in my pedal chain, I used only the included power supply and checked my pedal coupler cables many times...but still, strange bloops and beeps would occasionally make their way into my guitar's sound. Not sure if my particular unit was defective or not, but it's something you should consider when buying a Key 9. Overall, it's unquestionably a fun and unique piece of gear, but it isn't going to work for everyone and unfortunately it didn't work for me.
Musical Background:
I've been playing music since I was 6 years old...24 years of playing. Currently professionally gigging.
Musical Style:
Blues, Jazz, Americana, Folk, Fusion
11 of 12 people (92%) people found this review helpful. Did you?
Thanks for your opinion!
---
Submitted November 8, 2015 by Joe E in Valdese, NC
"Great for adding keyboard leads & arpeggios, but no substitute for a real keyboard&quot
Verified Customer
zZounds has verified that this reviewer made a purchase from us.
But hey, if you bought this pedal, you're probably not a keyboard player, right? So this is a great tool for adding some non-guitar colors to your music. This device takes your guitar signal and makes it sound like several different keyboards. It also has a few settings that allows your guitar to sound like a guitar - just with added modulation, such as the TRI-GLORIOUS chorus. Sadly, it won't really do endless sustained chords or notes, due to the fact that a guitar doesn't do them (I tried it with an ebow, but it really didn't work - the pedal just re-triggered every now and then like it was a new note). So, don't fire your keyboard player. Long sustained organ chords will still require a real keyboard, but that doesn't mean this pedal isn't cool. I've already used it in several of my latest recordings!
Sound
The EHX demo is a bit misleading, since it was perfectly produced to make it sound "just right." If you use a plectrum, you won't be as convincing as the guy in the demo who used fingerpicking to help fill in the pedal's inability to sustain chords for very long.
Features
For me, the organ setting is probably the most useful. I liked the vibes setting, too. I despise steel drums, so that is a wasted setting, in my opinion.
Ease of Use
Pretty easy to use. Plug it in and start playing and tweaking knobs!
Quality
Seems sturdy enough.
Value
Good value for the amount of sounds versus cost.
The Wow Factor
Fairly high wow factor. EHX did a great job of making it track your guitar and produce a convincing keyboard sound.
Musical Background:
Been playing guitar 40+ years. Bass for 1 year. Formerly in a band, now just write and record from home
Musical Style:
Instrumental rock
7 of 9 people (78%) people found this review helpful. Did you?
Thanks for your opinion!