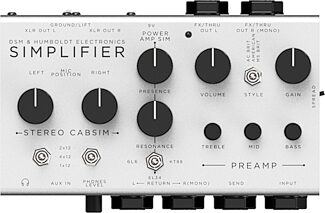 Want to play through a legendary amp? The DSM Humboldt Simplifier recreates versions of legendary amplifier preamps all in one pedalboard-friendly box.
Overall User Ratings
(based on 1 ratings)
Submitted January 3, 2021 by a customer from gmail.com
"Simply Great&quot
Verified Customer
zZounds has verified that this reviewer made a purchase from us.
When I first got this I struggled because I had it going straight into Lynx converters from the XLR outs and there just wasn't enough level. That was probably dumb, but I didn't know it needed to go through preamps. So then I ran out the right 1/4" out (sum/mono) into an outboard pre and from there on out the only problem I had was keeping my jaw off the floor. (Next I will try it stereo through XLR outs into matched pres and I'm guessing it will sound even better.)I'd seen my favorite product guys demo this next to the Strymon Iridium and a couple others and this box sounded a little thin to me in comparison, but let me tell you it does not sound thin at all in person. It sounds really, really great. I'm still trying to get my head around how they did this.Lately I play mostly clean to slightly dirty electric, and before this I was getting a recorded sound I was very happy with using a combination of an Audient Sono with its tube just kissing the input and Two Notes Wall of Sound IRs, plus Helix Native. I'd use Helix for the preamp modeling and Two Notes for the power amp and cab modeling, usually settling on a Vox type pre and a 4x12 IR (which I know sounds weird with a Vox instead of a 2x12 but it just worked for a big clean sound).Honestly all three amps in the Simplifier sound even better than that. To my ears they don't sound exactly like a Vox, Fender or Marshall, but they each have the flavor of the amp they're aiming at. Like, if you listened blind you would know which was which right away. And anyway I don't need spot on emulations, I just need high quality, believable sound- and all of these sound great. And they are quieter than my Fender and don't have some of its quirks, which I like! The three band eq is very effective for dialing things in or out and the presence and resonance controls are like 'air' and 'beef' knobs. The ability to switch cabinet types, tube emulations and the axis of the cab simulations makes it really easy to experiment. Having knobs and switches for everything feels really intuitive and makes dialing in sounds a quick and fun process. I'm super happy and impressed with it and I will not be miking up an amp any time soon! It really has simplified things for me.One suggestion I'd make is to add your reverb and delay right away as you get to know it, either with your pedals through the effects loop (which, awesome) or in your DAW. You won't fully appreciate the sound until you add your normal sweeteners.Disclaimer: I have not dialed up aggressive distortion and I don't imagine this is meant for that but I went like 'AC/DC dirty' and 'blues dirty' and had excellent results. I also have not tried it into a PA yet but if it sounds close to as good as it does in the box it may replace my amp for live gigs.
12 of 12 people (100%) people found this review helpful. Did you?
Thanks for your opinion!