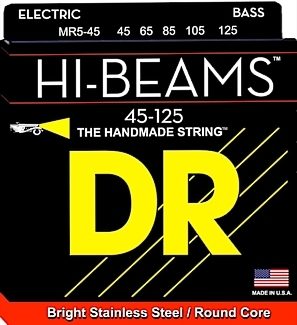 These hand-made bass strings shine all the way down to "B." Nickel-wound for bright, balanced tone, DR Hi-Beam strings' round core increases flexibility.
Overall User Ratings
(based on 2 ratings)
Submitted November 27, 2009 by a customer from ymail.com
DR MR545 Hi-Beams Customer Review
I won't use any other strings than DR's. Used to use Blue Steels, but they go dead really fast. These don't. 'nuff said.
Sound
Nice and bright, with just enough growl. Good consistency string to string, and set to set. The only strings I play are DR's.
Features
They don't seem to need to be stretched nearly as much as other strings. I love that. I usually tune them about 1/2 to a full step sharp, and stretch them several times, and then tune them accurately once all of them are on. I never have intonation problems after that.
Ease of Use
They string up just like any other string, but seem to have a little more flex to them.
Quality
Always consistent. great strings.
Value
You get what you pay for. Pay $12 for a 5 string set, you get a cheap-ass set of strings. Pay $40, and you'll be happy with them.
Manufacturer Support
Never needed it.
The Wow Factor
Great strings make you sound better, and make you more confident, because everything feels right. And that makes the ladies like you.
Musical Background:
Starving musician. Been playing bass for 10-12 years.
Musical Style:
Mostly metal
10 of 10 people (100%) people found this review helpful. Did you?
Thanks for your opinion!