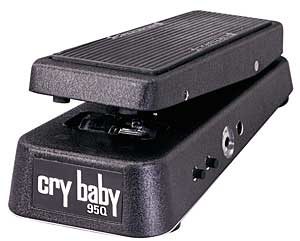 Customize your wah effect! Dunlop's Cry Baby 95Q pedal features volume control and the famous Q control, which varies the intensity of the wah effect.
$149.99
---
No Credit Check

No Credit Check
Overall User Ratings
(based on 27 ratings)
Submitted March 10, 2004 by a customer from hotmail.com
"THis Pedal KIcks ass!!!!&quot
Verified Customer
zZounds has verified that this reviewer made a purchase from us.
The only other Wah pedal i would get instead of this one is the Dimebag Signature wah but that 50 extral bucks, and to tell you the truth you dont use a wah pedal in every single guitar solo you do, (unless you are Kirk Hammett) and even if you do this Pedal is great for it, Ive been playing 7 years i play mostly: Slayer, Pantera, Ozzy, Joe satriani, Megadeth, ACDC, mostly old school stuff, some new bands and this pedal can bust for all of them. If your thinking of getting the 535Q, STOP!!!!!!!!!! try this one first, beside you got that 30 hassel free return thingy from this company. If you want the Dimebag signature then you are a lucky mutha!! but this pedal kicks ass, alot of it too. If you happen to buy this pedal then make sure you use a COmpression box or use the one that comes with your nulti effect set attack: FAST /Ratio:8.0 / Thresh 99/ Gain 0 , then this pedal sound unbelievable, I use my CRate Blue Voodoo Half Stack, Digitech Rp300 and my 95Q, thats all i need to get a kick ass variety of sounds.... Uhh I almost forgot youll need a good EQ also!!! Hope you get thois pedal cause its very Underated, and the 535Q is very Overrated!!!! Lates!!!!!!
Sound
This wah pedal has a really good sound (if you set it up right, cause if you dont it can sound nasty and be kinda noisy). It can get a lot of wah sound out of it even up past the 12th fret which most wah cant achieve.
Features
Possibly the best feature it has is the auto-off switch, no more having to slam your foot forward real hard to turn the pedal on and off. Also i love to volume boost it has, you cant really notice the boost when you use distortion with it but you can really notice it on a clean amp setting. The Range select (or Q) is variable and not preset like the 535Q which is really cool because you can get the exact sound you want. Also the auto off switch's delay isnt noticible on a distorted setting but if you use the volume boost on clean then you can notice it quite a bit,(just dont use the boost on clean parts is all)
Quality
This wah is a well made pedal. Steel body. metal parts. It looks very Understructable.
Value
DUDE THIS PEDal is pretty cheap, compared to alot of other ones like the Bad Horsie, Budda wah, Snarling dogs, ext. this is a good buy, definately worth the $105.
Manufacturer Support
From what ive heard DUnlop has the best support so im gonna go with a 10.
Musical Style:
Metal, ROck, Thrash, Solo
18 of 19 people (95%) people found this review helpful. Did you?
Thanks for your opinion!