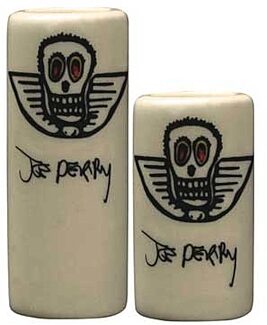 The Joe Perry Signature Slide is a must for any slide guitarist or Aerosmith fan. It's perfect for both acoustic and electric guitars.
Overall User Ratings
(based on 9 ratings)
Submitted June 1, 2008 by a customer from yahoo.com
"Soul to the Bone!&quot
If you can get over the signature stigma like I did, you will be very pleased this slide. From Delta blues to country licks, if you need a little more soul, this slide will get you there.
Sound
On acoustics it resembles a glass slide, but with a bit more volume and midrange response. As for electrics its tone is slightly brighter than glass, not nearly as noisy as metal slides, and sounds big and bluesy like a slide should. No matter what you use it for, its tone is superbly soulful.
Features
The interior surface of the slide is rough and porous making for virtually no slippage on your finger.
Ease of Use
Big fingers beware! The large size won't fit comfortably over my ring finger knuckle, but i like it above the knuckle anyway. If you use your pinky, then this is totally irrelevant, so don't worry.
Quality
Dunlop quality. A.k.a. The Best quality.
Value
You're paying for a "signature" product so of course its more expensive than others. If you can find the Dunlop Porcelain Moonshine slide, it's the same thing so I recommend that as a cheap alternative.
The Wow Factor
I found it very hard to find any porcelain slides out there, and I love their tone. That alone made this very desirable to me, but of course Mr. Perry is on bad mutha' and who doesn't love Aerosmith? Some people may not like the whole signature thing, but its tone was more than enough to win me over.
Musical Background:
Active Musician
Musical Style:
Guitar Music
15 of 16 people (94%) people found this review helpful. Did you?
Thanks for your opinion!
---
Submitted November 17, 2013 by Adam N in Saint Paul, MN
"Not a bone slide&quot
This is not a bone slide and is made out of the same material as a toilet. Fecal material slides and that must be what they were thinking when they made this overpriced piece of junk. King Solomon Hill is the first bone guitar slide player and the number is growing If you want a real "Bone" guitar slide Google "BonerZ Slide" I am the creator and inventor of the Worlds only 100 percent Bone Guitar Slide Visit us on Facebook Thank you!!!Cheers!!!!!
Musical Background:
I have been playing guitar since 1976 I also play bass, harmonica, keyboard.
Musical Style:
Rock, Old School Heavy Metal, Blues, Country, Jazz
2 of 30 people (7%) people found this review helpful. Did you?
Thanks for your opinion!