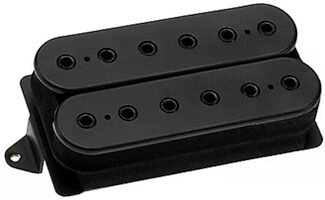 Designed specifically to fit Steve Vai's demands, this pickup delivers singing highs and tight lows.
$99.99
---
No Credit Check

No Credit Check
Overall User Ratings
(based on 62 ratings)
Submitted January 29, 2006 by a customer from yahoo.com
"The pickup with taste for people who want to sound serious.&quot
Verified Customer
zZounds has verified that this reviewer made a purchase from us.
I like the Evolution a lot and I would not want to abandon it. But I would like to try a Dimarzio PAF PRO and also a Dimarzio X2N. But that is simly to solve the problem of not enough highs in the sound. I wish that the Evolution had a blade option to prevent the dropping off when doing string bends. That is another reason why I was thinking of the X2N and the X2N has more output than a Evolution. I would use the Evolution as a default or standard pickup for my guitars. It has satisfied me for a half decade now.
Sound
Powerful sound. It does not have quite the amount of highs that I would want but this pickup is great for doing things like pinch harmonics. It really lets them show. I like the Evolution because it has a dense and more saturated sound. It's not like a bunch of those other pickups that sound gritty. The Evolution is a smooth saturated sound. A characteristic that I have seen in other Dimarzio pickups. The Evolution can be great for heavy metal because of it's powerful mids and saturation of sound, but if you back off the volume a little on your guitar, it can really produce a sweet and somewhat soothing elegant sound. I highly recommend the Dimarzio Evolution. I have been using one exclusively since 2001. If you are in doubt about what pickup to put in your guitar, at least for the bridge position, I think the Evolution would be a good choice. I mean, look who it was designed for, VAI!! Steve Vai has made his contribution to the music world not only with his skill but in the pickup that he had made by Dimarzio. If the Evolution had a little more highs in the sound, then I would like it even more. That is because I usually have to have my treble all of the way up to get the sound that I like out of it. But once you get things setup like you want, the Evolution really is a great pickup.
Features
The guitar that I had my Evolution in is an older Peavey Predator. I have the Evolution in the bridge and wired in SERIES humbucking. I like the sound that I got when I used an equalizer to help shape the tone a bit, I also like using a digital delay petal and some chorus for effect. I have an old Marshall JCM 800 50 watt all tube amplifier head and a speaker cabinent that I actually made myself. I used two Eminence Legend 105 10" guitar speakers in this thing. The amp had been modified by a friend for higher gain. The combination of that, with those Legend 105 speakers and the Evolution really made a sound that I like. You could get a sound really similar to what Satriani had live in 2001, you could do metal with it and avoid those worthless Metallica tones (always E minor, ha ah aha ha ha ha!), you can have a sound of actually knowing what you're doing and have some taste for doing it, and you can make sweet tones to invoke the emotions and even into memories with stuff like this. At least that is what it did for me.
Quality
I might as well give the best rating here because I haver had problems with it. It may not have absolutely the most ideal sound for me, but it functioned as perfect as you could expect. It appears that it worked as well as it was designed. I never found any defects in it and it has worked great for 5 years already.
Value
YEAH!! I'd buy another one. The common price that I have seen these was about $70 I think, if I remember correct. In a shop they would easily be $100 because of guitar shop prices. For $100, I'd still say it is a good value. But if you can get this pickup in NEW condition for $70 or less, then more power to you. It is a superb value for that price. It's better than stock pickups in my opinion.
Manufacturer Support
Honestly, I don't really know. I never had to contact them. They could be superb and I wouldn't even know it because I NEVER had a problem with the pickup which would necessitate the need to contact them. I can't really give an opinion of their customer support. Their design team was great, the pickup works and sounds good.
The Wow Factor
The best thing that I could say to summarize this pickup is that it will make your guitar sound like you have some good taste in what you are trying to play. Doing string bends and especially pinch harmonics are made to sound good with this pickup, it's great for instrumental musicians.
Musical Background:
Hobbyist, home recording
Musical Style:
Instrumental/progressive
36 of 38 people (95%) people found this review helpful. Did you?
Thanks for your opinion!