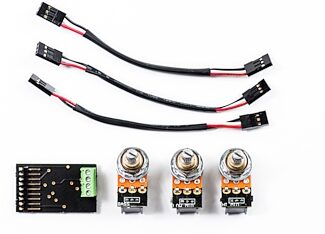 Discover a new universe of sonic possibilities by installing a powerful Darkglass preamp directly into your bass guitar with the Tone Capsule Bass Preamp.
Overall User Ratings
(based on 2 ratings)
Submitted July 28, 2021 by Russell
"Definitely makes your bass sound better&quot
Written by one of our gear experts!
This thing certainly imparts a mild profile on to your sound that is useful for heavy music. Thickened up but not too much to make things muddy. It sounded better than the EMG active EQ I had previously installed and the stock preamp that came with my bass. The EQ bands they picked were totally smart- 70, 500, and 2.8 Hz. respectively but I would have been more down with 80 Hz for the low end. These are ideal for on the fly changes when playing, which is what I want out of an onboard eq. It's tough to go back and forth to your amp or pedals when playing a gig and much more useful to just turn a knob on your bass to get more bass mids or treble. It would be nice to have a parametric mid for cutting, as I also like to cut around 250 Hz for bass, but this is more for a quick, start of the set adjustment to get more of something you're missing than a tone shaping device.The biggest problem I had with this setup was the modular system for the EQ knobs. First off, few of us have three extra holes on our basses for a 3-band EQ, and finding concentric 50k detent pots is tough if you don't want something that is sticking 3 inches off your bass or doesn't fit non-metric knobs. I ended up having to use 100k pots in order to make it work and things are still not ideal. This also meant that I had to cut and strip the modular wires in order to install this. I appreciate the thought behind solderless install systems, but there are really two types of people who will buy this- those who take it to someone to install it and those who will do it themselves. Those who do it themselves are able to use a soldering iron and these modular systems are just a pain to deal with. There is no getting around soldering when installing electronics unless the guitar shipped with modular electronics to begin with, so everyone should just cut this crap out. Anyway, it does sound good and is voiced smartly for what I need it for. I consider this overpriced though. The similarly priced EMG systems have more features and are easier to integrate into existing guitars despite being modular.
Musical Background:
28 years. 21 electric
Musical Style:
Classical, Hardcore Punk
5 of 6 people (83%) people found this review helpful. Did you?
Thanks for your opinion!
---
Submitted September 23, 2020 by a customer from yahoo.com
"Wow!!&quot
Verified Customer
zZounds has verified that this reviewer made a purchase from us.
I had this install in my Ibanez SRMS805 (also purchased from zZounds) and let me tell you what, it brought the tone from pretty good, incredible. Paired with the bk7, it's a really quality option to a Dingwall.
3 of 4 people (75%) people found this review helpful. Did you?
Thanks for your opinion!