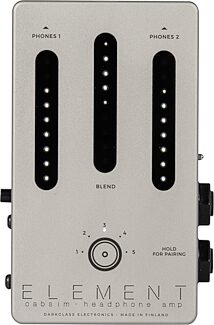 The Darkglass Element is a headphone amplifier and cabinet simulator in one box. Choose from five cab models and adjust levels and blend via touch controls.
Overall User Ratings
(based on 2 ratings)
Submitted November 3, 2021 by a customer from gmail.com
"Updated Darkglass Element&quot
Verified Customer
zZounds has verified that this reviewer made a purchase from us.
First and foremost this is not a pedal by a long shot. It's simply incredible! I don't have a physical amp anymore since my wife works from home and my last amp was way too loud for practice. I needed an alternative and this was it. Doubling as a cab sim, it's like having 6 amps in 1 (literally). With no presets (1) and 5 additional settings you create (equals 6), is definitely a back and space saver. It can be used with the app and I can mix/master using my in ears with this headphone amp. You'll need to put the Element at the end of your signal chain if you decide to use pedals then the signal goes to FOH via DI. Since the new update, it's definitely much easier to use with more functionality too.
4 of 4 people (100%) people found this review helpful. Did you?
Thanks for your opinion!
---
Submitted November 28, 2022 by Chris V in Albuquerque, NM
"Nice as a speaker sim, terrible audio interface&quot
Verified Customer
zZounds has verified that this reviewer made a purchase from us.
This device has a lot of features (like most of the new Darkglass digital stuff does). Their software on Windows and Mac isn't particularly intuitive, and they don't bother with simple stuff like factory reset of a connected device. This is an issue with ADAM and other similar products as well. The documentation for this device is sparse because it's pretty easy to use. The sounds of the different speaker sim/impulse responses that ship with the device are pretty good. I like that I can load my own impulse response WAVs and use them.Where it falls flat on its face is as a Windows audio interface. Connected via USB-C to a modern Win11 system, it regularly has issues with 1. passing audio, 2. distortion of PC-based sources (e.g., spotify, whatever), 3. ASIO buffer issues with the DG driver.What does this mean? If you connect the device and set Windows to use it as the output (or input!) it will regularly not work until you reboot. This is absolutely obnoxious on a device this expensive. Their drivers have caused the first BSoDs I've seen on Windows in probably 5 years? These issues don't happen on Mac. You just have to deal with the sorta bad software.If you're purchasing the device for use as a way to connect to another audio interface (I use a Rode single port one that works) or using it to connect to a mixer, it's fine. If you're using it as a headphone amp to practice quietly and not as an interface, it's also fine. I don't really recommend it as an audio interface if you use Windows.Had I known its shortcomings as an audio IF, I probably would have looked harder at the Two Notes speaker sim/IR loader instead. It's similarly priced, and I already have one of their devices for bass and it works well.
Did you find this review helpful?
Thanks for your opinion!