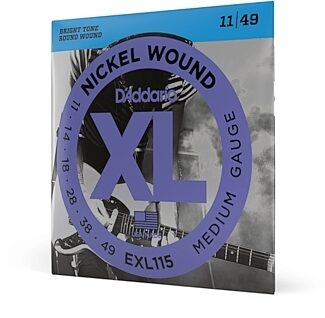 Achieve a bright, true sound with these made-in-the-USA, round wound, nickel-plated steel EXL115 XL -- D'Addario's most popular electric guitar strings.
Overall User Ratings
(based on 11 ratings)
Submitted September 12, 2010 by a customer from hotmail.com
"D'Addario XL strings .11-.49 gauge.&quot
Sound
The sound is absolutely devastating for metal, and very tonesy for cleans. With cleans it rings out very smoothly and thr harmonics fly at you when distortion is on! This is more of a metal player strings due to the guage size, unless you're a jazz player. The sound has a LOT of classic bass tone with some mids slashing it's way through. I've recorded with them, sounded great! Live, also sounded GREAT! I'm using these throug a Jackson JS30 Kelly and a Kramer 2010 Vanguard, (not the 300$ one, the 700$ one.) The only thing that could make this product better would be to make it free. ;)
Features
It has a colour coding system on the ball ends, to help you string quicker. The guages are perfectly chosen in this set.
Ease of Use
From standard tuning to B, the tension feels just great on these strings if you have a 25.5 inch scale or higher.
Quality
Perfect quality strings. Sound lasts for quite a while.
Value
Yes it is, i've seen other strings for a few dollars more and have died quicker! These are a MUST own.
Manufacturer Support
Never needed support so these get a 10 as well!
The Wow Factor
These strings are everything I stated above, so another 10!
Musical Background:
Hobbyist.
4 of 4 people (100%) people found this review helpful. Did you?
Thanks for your opinion!
---
Submitted December 13, 2009
"XL Electric Guitar Strings - Blues/Jazz/Rock Review&quot
Verified Customer
zZounds has verified that this reviewer made a purchase from us.
Overall these are decent strings. They work pretty well on my Ibanez. I will probably continue to get these strings whenever I need them.
Sound
They are a little buzzy at some times (the low e string has some buzz in it on some notes), but when you jack your guitar into the amp the buzzing becomes silent so you don't need to worry about that.
Features
There is a ball end color chart for the strings so it takes the guess work out of installing them: 6th: Brass 5th: Red 4th: Black 3rd: Green 2nd: Purple 1st: Silver
Ease of Use
I guess ease of use for strings really depends on the guitar more than the strings. This was my first time installing strings on my guitar by myself so it was probably just me. TIP: When you are tuning the guitar for the first time, after you get the string in tune Pull it up and then re tune. Continue until it doesn't fall out of tune.
Quality
Pretty good strings. Easy to bend. Durable strings.
Value
I got them at my guitar store for $7.00 Zzounds had a better price but I couldn't wait for the shipping.
The Wow Factor
Before this I hadn't replace my strings in a couple of months, so I needed them bad...
Musical Background:
Budding Musician
Musical Style:
Classic Rock, Pink Floyd, Led Zeppelin, Aerosmith, 60s and 70s Rock
2 of 8 people (25%) people found this review helpful. Did you?
Thanks for your opinion!