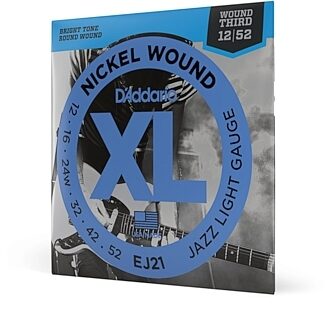 The wound third G string of this EJ21 XL Nickel Wound string set is ideal for jazz playing and drop tunings due to its increased resonance and tighter feel.
Overall User Ratings
(based on 1 ratings)
Submitted June 19, 2022 by a customer from gmail.com
"Simply The Best&quot
Verified Customer
zZounds has verified that this reviewer made a purchase from us.
I've played D'Addario XL electric strings since I heard that Megadeth were using them back when I was a teenager (so about 28 years now), and I've never, ever been disappointed. Twice I decided to give "The Other Brands" a run, and ordered a huge range of all the other major brands (along with a few not-so-common brands too) - once in about 1997 when I'd been playing for a few years, and then again in 2010 just to remind myself why I always buy the same brand - and came to the same conclusion both times. The others just don't hold a candle to the XL strings! Ernie Ball, Dean Markley (standard and Blue Steel both), DR (Tite-Fit, Dimbag signature, and DTT), Dunlop - nothing comes close to the brightness, strength, and lifespan that D'Addario offers. No wonder they get to claim the title of "The World's Most Popular Guitar Strings".
Sound
Bright, well-balanced, and long-lasting. Other brands sound muddy and worn-out by comparison.
Features
EXTREMELY durable! They last forever, and keep their tone for months past where other brands get corroded and crappy.
Ease of Use
The best, period. Don't take my word for it - just look up a list of players who've relied on D'Addario for decades.
Value
These strings are worth the price and then some - they sound better and last longer than "deluxe" strings costing 3 times as much.
Manufacturer Support
I've only ever had to reach out once, when I bought a set that was missing a string, and they responded THE SAME DAY. They sent out two single strings to replace the missing one, but due to a typo, they were the wrong gauge - so D'Addario sent me a whole new set to replace them. Total class act.
The Wow Factor
I won't even bother with any other brand, and I would NEVER hit the rehearsal room (let alone a gig or recording session) without D'Addario strings on all my guitars.
Musical Style:
Metal, punk, blues, hard rock, proggy weirdness
Did you find this review helpful?
Thanks for your opinion!