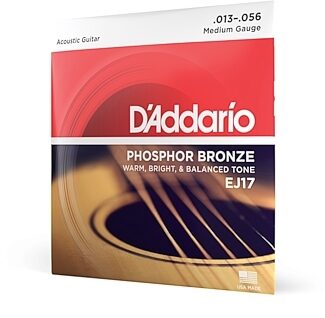 Bronze strings are known for their bright tone and durability, and these D'Addario acoustic strings are no exception.
Overall User Ratings
(based on 15 ratings)
Submitted March 16, 2007 by a customer from madbbs.com
"Industry Standard Quality strings&quot
Verified Customer
zZounds has verified that this reviewer made a purchase from us.
This review has been selected by our experts as particularly helpful.
I've been using them for years. I esperiment with others, but always come back to them.
Sound
Apparently the last reviewer had a bone to pick with the company, because many pros will tell you these are the industry standard strings. I've tried many so-called 'boutique' strings and these are the most consistent in terms of clarity, longevity, and sustain.
Features
Just bare-bones phosphor bronze strings.
Ease of Use
They sound good when you put them on, so they don't really require a break-in, but I prefer them after about an hour of playing time.
Quality
As I said, these are the strings to which every other acoustic string is compared. They are high-quality.
Value
Getting harder to find deals on them, but they are competitively priced.
Musical Background:
Active Musician
Musical Style:
Alt. Country
5 of 5 people (100%) people found this review helpful. Did you?
Thanks for your opinion!
---
Submitted July 5, 2006 by a customer from yahoo.com
"Like hearing nails drag across a chalkboard.&quot
The only decent strings I've bought from this company are EXP mediums for acoustic guitars, they are simply amazing, but these strings are an embarassment and I will never put them on my guitar again.
Sound
The sound of these strings is a very cheap one, they have no brightness or decent tone to them at all. The strings have very little of that "new string" sound in the first place, and are gone withing minutes of the first note. Speaking of the first note, you will notice that it will not ring for very long, the string sound DOES NOT RESONATE. I've tried these strings in several settings, and none of them make these strings sound any better, this includes halls, and closed rooms as well as outdoors. The strings don't sound any better when recorded and sound terrible being played through an amp on an acoustic electric guitar.
Ease of Use
The strings require constant retuning, and will often fall out of tune mid song.
Quality
Read what I had to say about the sound, you'll know what the quality is. Terrible.
Value
Do not buy these strings, do not even take them for free, they will only harm your guitars sound.
Manufacturer Support
I've yet to contact the company, but will soon about the poor quality of these strings.
The Wow Factor
The string coating flakes, the strings rust quickly and are easily broken.
Musical Background:
Active Musician
Musical Style:
Rock, Punk, Folk, Acoustic, Electric
1 of 14 people (7%) people found this review helpful. Did you?
Thanks for your opinion!